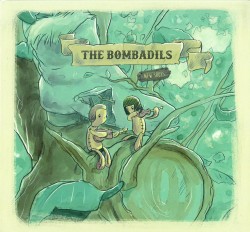 New Shoes
The Bombadils
Borealis Records BCD243 (borealisrecords.com)
While the roots music duo The Bombadils live in Montreal they do get around, recording this, their third album, New Shoes, in a Bowen Island, BC, studio. Canadian Maritimer Luke Fraser and self-described "prairie girl" Sarah Frank share an abiding affection for North American and Celtic folk songs, fiddle tunes as well as European classical music. The resonance of those traditions permeates the album.
Frank's supple soft voice is featured on most tracks accompanied by her idiomatically expressive fiddle and claw-hammer banjo. Fraser sings and plays incisive guitar and mandolin. Not that long ago both studied classical music at Montreal's McGill University, their various affiliations coming through clearly in the clever La fille aux cheveux de lin. It borrows its melody from Claude Debussy's piano piece of the same title, neatly adapted by Frank and set to a French poem by Parnassian poet Charles Marie René Leconte de Lisle.
They also pay respects to the late American singer-guitarist Doc Watson and Rosa Lee Watson's classic Bluegrass song Lone [Long] Journey in a classically tinged arrangement enriched with cello, their two voices neatly paired.
Fraser and Frank's own songs are marked by originality. Even their arrangements are not allowed to fall into banality, but are rather infused with an old-timey feel while given the tang of the new. It's a winning combination that's quite satisfying musically. Twelve guest musicians – including Canadian banjoist extraordinaire Jayme Stone, cellist Kaitlyn Raitz and the expressive jazzy flute of Anh Phung – lend the album additional texture and musical polish.
I find New Shoes a wistful, charming and musically sure-handed outing, and look to the further evolution of this abundantly talented duo.