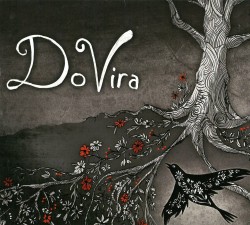 DoVira
DoVira
Independent (doviraband.com)
One of the many great aspects of living as a musician in Toronto is being exposed to music from diverse cultures without ever really leaving home, and subsequently being influenced by it in one's own music. Listening to DoVira's music is proof of this. Eight of the 10 tracks are their arrangements of traditional Ukrainian material. The tunes' melodies and lyrics are still Ukrainian, but the rest of the music world surfaces with a blast.
Opening track Yest'Na Sviti opens with a more traditional rendition by vocalist/keyboardist Stacey Yerofeyeva which builds to a bigger rhythmic sound. A stadium rock setting is established in Dyki Husy with a busy drum groove (Derek Gray), bass (Mark Rynkun), guitars (Patrick O'Reilly) and sopilka (Mike Romaniak). A slower brief interchange between Yerofeyeva's wailing vocals and guest Ernie Tollar's saxophone lyric riffs is followed by a fast sax solo and a big instrumental blast ending. Folk music meets the avant garde in Oy Zijdy Ziron'ko as guest accordionist Emilyn Stam matches the vocal line and holds notes against repetitive rhythms, space-age effects and washes, leading to melodic folk material. Kolo, the closing original tune, is a toe-tapping fast get-up-and-boogie tune featuring virtuosic sopilka (Ukrainian wooden flute) playing and guest vocalist harmonies.
All the performers are great, with special kudos to Yerofeyeva's colourful, wide-ranging vocal stylings. An English translation of the titles would add to the listening experience. This is world fusion music at its best!