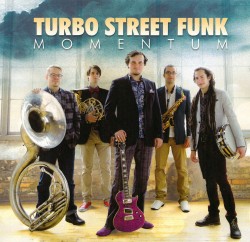 Momentum
Turbo Street Funk
Independent TSFCD002
(turbostreetfunk.com)
My first introduction to Turbo Street Funk was witnessing their live Toronto street corner bouncing performances which made any lengthy wait for public transit a joyous experience. Their busker street spirit is remarkably captured on this, their second release, though now they can also be heard playing lively gigs at festivals, clubs and on air!
The nine tracks feature both original tunes and covers. The original title track Momentum is a big rock concert hall funky anthem with sing-along arm-waving melodies. In contrast, the jazzier original Never Been to New Orleans moves along in blues-based harmonica and sax solos, and fun double-time speedy Cajun-flavoured middle and ending sections true to their street roots. The other originals are good too and indicative of their developing songwriting skills.
Covers are the band's forte especially in Seven, an unlikely combination of the White Stripes' Seven Nation Army, the Eurythmics' Sweet Dreams (Are Made of This) and yes, Edvard Grieg's In the Hall of the Mountain King. Technical performance precision, precise listening skills and superb individual musicality weave an almost new musical genre highlighted by in-your-face guitar solos and dance-in-your-living-room grooves.
Each Turbo Street Funk band member is an accomplished musician whose youthful artistic essence is captured by the excellent recording production. Infectious musical energy, a driving beat, booming bottom end tuba, wailing solos and boisterous vocals make Momentum a jubilant release.