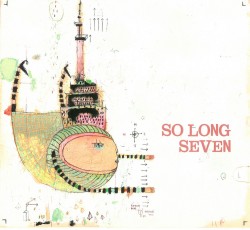 So Long Seven
Neil Hendry; William Lamoureux; Ravi Naimpally; Tim Posgate
Independent SLS001 (solongseven.com)
Review
The music scene in Toronto is jam-packed with talented, inventive and courageous musicians. So Long Seven, a multifaceted collective comprised of composer/banjoist Tim Posgate, composer/guitarist/mandolinist Neil Hendry, composer/tabla star Ravi Naimpally and violinist William Lamoureux, is one of our city's cream of the musical crop. Their self-titled debut CD features eight tracks of joyous, at times complex, original tunes with melodious world music, blues, jazz, pop, symphonic, classical and folk-flavoured nuances.
Each track is composed yet features lengthy, storytelling improvisations. Highlights include Hendry's Torch River Rail Company which opens with a tight group melodic section punctuated by brief stops followed by a touching violin improvisation. Postgate's MSVR (My Swedish Viking Roots) rocks with his lyric and groove banjo playing and a big band group crescendo ending. Naimpally's Aarti features special guest, South Asian singer Samidha Joglekar, soaring to lyrical and complex rhythmic heights while the ensemble creates both conversational backdrops and instrumental interludes.
There is such a positive glowing musical force driving the sound. Each performer is a star when soloing and improvising. Great production values add a live off-the-floor ambiance. Brilliant original songwriting creates a unique band sound. Yet the group's real strength lies in each member's ability to share and understand the importance of close ensemble listening and the intricacies of musical interplay. So Long Seven is a release that absolutely every music aficionado needs to hear over and over and over again!