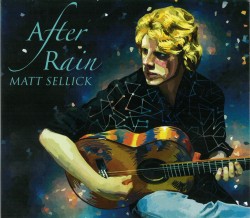 After Rain
Matt Sellick
Independent (itunes.apple.com/ca/album/after-rain/id930972312)
After Rain is a very interesting new CD from the Thunder Bay guitarist and composer Matt Sellick. There's no bio or recording information included, but his Facebook page notes that he has been playing guitar since the age of eight (he's now 20) and moved through several styles from electric to classical before developing a passion for flamenco guitar.
In the brief notes on the CD digi-pack Sellick says that he plays a flamenco guitar, uses flamenco techniques and uses flamenco song forms as the starting point for his compositions. That should give you a pretty good idea of what his music sounds like: Sellick displays a solid technical base and a good tone, and the nine pieces here are entertaining and creative, with some nice effects and interesting harmonies. Track titles include: Drink From the Fountain; Allons-y!; In the Rain; A Beautiful Day; and For Paco, presumably a tribute to Paco de Lucía, one of Sellick's admitted influences. Callejón Aynadamar is an excellent solo track (you can watch a performance on YouTube) but the other eight tracks include rhythm and percussion backing and possibly other guitars, although it's not clear who – if it isn't Sellick – provides these.
Sellick is clearly a very talented and creative young musician. He admits that he doesn't know precisely what kind of music he writes, but says that "it's music I want to share, and I hope it's music you will enjoy." Well, mission accomplished!
The tracks are available for download on iTunes as noted above, or you can contact Sellick for a hard-copy:
matt.sellick@gmail.com.