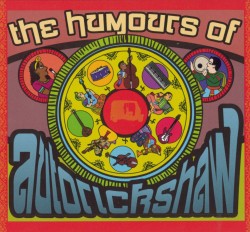 The Humours of Autorickshaw
Autorickshaw
Tala Wallah Records TW 005 (autorickshaw.ca)
The JUNO-nominated world music ensemble Autorickshaw's delightfully exciting fourth album is a rich record of a particular transcultural Toronto musical masala. Make no mistake; The Humours of Autorickshaw is no parochial product however. Rather its achievement resonates across other communities of musicians forging other new musical hybrids. In its ambitious aspirations—adventurous genre mixings, and in some of its lyrics touching, contentious reaches of the human condition—it will resonate with select global audiences.
Viewed as an album The Humours of Autorickshaw reflects perhaps most obviously the music of both North and South India, digested over years of study and performance by a growing group of Toronto musicians anchored by Autorickshaw co-leaders Suba Sankaran (vocals) and Ed Hanley (tabla). They composed much of the music. The album is also as much informed by both classical and vernacular Western musical instruments and idioms. There are strong jazz, rock, funk and even punk features.
Years in the making, this project was masterminded by producer Andrew Craig, the award-winning Toronto singer, multi-instrumentalist, music director, composer and recording engineer. He's deeply embedded in this recording, having co-written lyrics to several songs, contributed skillful arrangements to others and provided sophisticated "synth, orchestral and horn programming" throughout. His work not only enriches the group's sound but also guides it toward a more popular, edgier idiom than that heard in their previous albums.
In most tracks we hear a denser instrumental texture than in other Autorickshaw outings. Drum kit, electric guitar, myriad percussion instruments and strings are featured in addition to Ed Hanley's solid tabla work and Rich Brown's incisive electric bass. Top guitarists Justin Abedin and Kevin Breit guest, while Jason Freeman-Fox adds the essential violin on the title track, one of late fiddler Oliver Schroer's restless polyrhythmic masterworks. The Humours of Autorickshaw reminds us also of the pervasive influence of the elder statesman of Carnatic music in Canada, present on this and other tracks, the master percussionist and composer Trichy Sankaran. He is not only the father and first musical mentor of Suba Sankaran but also a former teacher of Ed Hanley, Oliver Schroer, Andrew Craig plus others on the album.
On the vocal end Suba Sankaran's singing and choral arranging chops are displayed to good effect on her work Kamalajadala. In a seven-beat metre this gently lilting devotional geetham has its 16th-century Carnatic melody garlanded with effective late-20th-century Western countermelodies and choral harmonies.
This is committed musicking and record-making of a very high calibre. It deserves a wide audience.
Concert note: Autorickshaw is featured at the Oakville Jazz Festival on August 9 and scheduled to perform on November 15 at the Aga Khan Museum in Toronto, a stunning new facility set to open on Wynford Drive this fall.