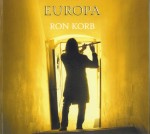 Europa
Ron Korb
Humbledragon Entertainment HD2012 (www.ronkorb.com)
Flutist Ron Korb has built an international career as a studio musician and as a solo performer; he is particularly in demand for his command of any number of flutes from non-western cultures. Europa, his 16th solo CD, features him not only as performer but also as composer. The music on each track is dedicated to a prominent European composer or compositional genre, on which it is loosely modelled.
Korb's affinity for Celtic music, evident on several of the tracks, makes this disc particularly appealing. The especially compelling example of his flair for it can be found on track four, Beckett's Whisper, which he plays on a wooden Irish flute, really, he observed recently, a baroque flute without the typical D-sharp key. The warm expressiveness of his sound in this wistful, haunting melody has not gone unnoticed: it has recently been named a finalist in the International Acoustic Music Awards.
His collaborators on the disc also deserve acknowledgment: pianist Laila Biali's distinctive musical personality blends perfectly with Korb's, while always adding to and supporting his work. Percussionist Larry Crowe is consistently sensitive to his relationship with the other musicians. I admired his tom-tom playing in 1759, a quasi martial tribute to that watershed year in French-English relations. Winona Zelenka, whose cello playing can fill a concert hall, adjusts her sound perfectly to the intimate scale of the occasion and provides welcome contrast to the flute. It is Korb's unique and recognizable sound, however, that is at the heart of this recording's appeal.