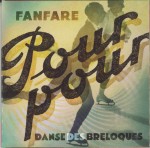 Danse des Bresloques
Fanfare Pour Pour
Monsieur Fauteux m'attendez-vous? MFMV? 18 (www.actuellecd.com)
In a bad mood? Listen, laugh and dance to the uplifting "Danse des brelogues" by Fanfare Pourpour. This is happy music from an eclectic happy "big band" of 20 performers well versed in musical idiosyncrasy, style, wit, and technical know-how (not to forget a superb taste in haberdashery!). Nothing atonal here, as the styles range from French waltzes to jazz to Klezmer-like tunes to tango and samba beats to everything in between played on trumpets, saxophones, clarinets, guitars, banjo, accordions, violins, percussion, euphonium, and musical saw, plus vocal soloists and a choir.
Under the direction of Jean Derome and Nemo Venba, the players are a smorgasbord of Quebec musical masters – Altobelli, Babin, Belanger, Bourque, Derome, Duguay, Del Fabbro, Guilbeault, Hubler, Lajeunesse, Letarte, Menard, Nicolas, Nisenson, Poizat, Proulx, Sabourin, Tanguay, Venba and Vendette. A number of these great musicians provide the fifteen original compositions featured on this, the band's fourth release. The works are group specific or originate from dance, theatre or film. The arrangements of the tunes are so strong, and designed to illuminate the group's tight ensemble sense while maintaining a continuous improvisational feel. There are also a few tiny aural treats to remind one that the performers are "new musicians" as well.
Sound quality is superb. The French language only liner notes are thorough. Time to take out whatever moves you and boogie along with Fanfare Pourpour's freewheeling musical spirit.