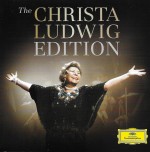 The Christa Ludwig Edition (deutschegrammophon.com), is a 12-CD portrait of her artistry heard through a cross section of recordings spanning repertoire from oratorio, lieder, opera, symphony and Broadway; from Bach to Bernstein. Only one of the composers could contribute an opinion. On March 2, 1990 Leonard Bernstein wrote this in praise of the mezzo soprano: "I always thought Christa Ludwig the greatest Brahms singer among her peers, but that was only until I heard her sing Strauss. Then she was the greatest Marschallin until I heard her do Mahler. Again I had to reassign her to another throne. But then I heard her sing Wagner and the same thing happened, and then recently I heard her incredible interpretation of the Old Lady in my operetta Candide. Then I had to give up. She is simply the best, and the best of all possible human beings."
The first CD contains 15 arias from Bach's Christmas Oratorio, St. Matthew Passion and Mass in B Minor and the final CD features Schumann's, Liederkreis Op.39, and Hugo Wolf's Mignon-Lieder and Italienisches Liederbuch, accompanied by Erik Werba and Daniel Barenboim. In between, there is a treasure trove of outstanding performances reflecting her reliability to be present in the role.
A CD of Ludwig and Karl Böhm has arias from Nozze di Figaro and Cosi fan tutte that are so exquisite that I gave them an immediate encore. On the same disc are two arias from Tristan und Isolde and four from Rosenkavalier. Rounding out this program there are about 15 minutes of three interviews in German. There's a very fine Alto Rhapsody with Böhm and the VPO and then her collaborations with Karajan including Abscheulicher from Fidelio and much Wagner with excerpts from The Ring. Karajan continues with works by Mahler, the three songs for soprano from Das Lied von der Erde, Kindertotenlieder and five Rückert Lieder. There is the Lux aeterna from the Verdi Requiem and an aria from Madama Butterfly, Reverenza! from Verdi's Falstaff and two arias from Strauss' Die Frau ohne Schatten. The selections with Bernstein begin with the final 15 minutes of Mahler's Second Symphony from Urlicht and O glaube with Barbara Hendricks, the Westminster Choir and the New York Philharmonic. From Mahler's Third Symphony she sings O Mensch! Gib Acht! From Bernstein's First there is the Lamentation followed by the Love Theme from his music for the soundtrack of On the Waterfront. There are three songs from Candide including I Am Easily Assimilated (The Old Lady's Tango) of which Bernstein wrote in his above quoted appreciation.
CD8 is titled "Great Songs and Arias with Various Conductors." Those conductors are Lorin Maazel, Ferdinand Leitner, Daniel Barenboim, Claudio Abbado, Georg Solti, Ricardo Chailly, Richard Bonynge, Colin Davis, Seiji Ozawa, István Kertész and Karajan. Composers range from Pergolesi to Orff in 19 great songs and arias. The last four discs are devoted to Schubert lieder. Winterreise D911 accompanied by James Levine was recorded in Vienna in 1986, and 29 assorted lieder accompanied by Irwin Gage were recorded in Vienna in 1973 and 74.
In sum, the above entries and more should prove to be a gift to Ludwig's admirers and others to whom the repertoire might appeal. Her mezzo voice illuminates the words, serious to the whimsical. Charming where called for.
Eight years ago Doremi issued Volume One of Tatiana Nikolayeva that includes Shostakovich's 24 Preludes and Fugues, Op.87. Her version was the composer's very favourite… He had written them for her.
Nikolayeva was an incredible musician and among her most admired specialties were her performances of Bach. She excelled in all classical styles, but for her Bach she is considered "a priestess," similar to Rosalyn Tureck, with the exception that Tureck was devoted to Bach exclusively. Nikolayeva's repertoire included all his compositions for the keyboard and many other Bach works which she transcribed for the piano. Volume 2 (DHR-8056-8, 3CDs naxosdirect.com) includes all 12 concertos, BWV1052 though BWV1065, for one, two, three and four keyboards heard in live concerts from December 11,13 and 14, 1975. She is accompanied by the Lithuanian Chamber Orchestra conducted by Saulius Sondeckis, an elite group with whom she often performed. These concertos were written for harpsichord, however the piano maintains the spirit and style admirably as is also clearly demonstrated by such authorities as Rosalyn Tureck and Glenn Gould. No doubt Bach himself, given the opportunity, would have embraced the use of piano, for as we know Bach transcribed many of his works for diverse instruments. Most of these piano concertos existed before as concertos for violin and were transcribed by Bach himself. Furthermore, Bach's concerto for four keyboards is actually his transcription of a four-violin concerto by Vivaldi.
Bach is played throughout with profound authority and hearing these treasured performances from long ago is such a pleasure. The crisp and faultless sound comes from Melodiya originals, not air-checks. There is a significant bonus. From the recital in Tokyo on April 22, 1988 are the Toccata and Fugue in D Minor, BWV565; the Partita No.2, BWV826; the Ricercar from The Musical Offering, BWV1079 and the Contrapunctus 1 and 9 from The Art of The Fugue, BWV1080. Different repertoire, same empathy.