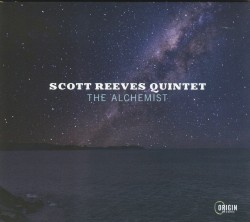 The Alchemist
Scott Reeves Quintet
Origin Records ORIGIN 82826 (originarts.com)
During the COVID shutdown, highly regarded NYC-based multi-instrumentalist, composer and jazz educator, Scott Reeves, began to plumb the depths of his own archives and discovered a rare artifact – a previously un-released "live" recording featuring his never-recorded quintet, originally presented in concert at Harlem's City College of New York in May of 2005. It was with the magic and skill of recording/mixing engineer Brian Montgomery that audio problems were solved, and this new CD (originally meant only as an archival recording) was rescued from oblivion. The album features five original compositions by Reeves, who also performs here on alto flugelhorn, the archaic alto valve trombone and electronics. The skilled quintet includes Russ Spiegel on guitar, Mike Holober on keyboards, bassist Howard Britz and drummer Andy Watson.
The opener is the sinuous, exotic New Bamboo. Written around an ancient Turco-Greek-inspired Phrygian vamp, this timeless composition invokes our primal emotions and also embraces contemporary spontaneity with the brilliant soloing of Holober and cosmic symmetry of all the players. The gorgeous Shapeshifter utilizes Gil Evans-ish, 12-tone modalities to explore the sonic relationships between the musicians, their instruments and the ensemble itself.
The title track is outstanding – a funky-cool, incendiary device, dedicated to Miles Davis, whom Reeves has dubbed "the master alchemist of space and time." Holober and Watson shine on this very au courant-sounding track, that could have easily been recorded last night and Reeves' use of electronics is tasteful and musical. Especially magical is the sumptuous ballad, Remembrances. Reeves' work on the alto flugelhorn is absolutely stunning and incredibly evocative – as is the inspired soloing of Spiegel on guitar. A masterful jazz recording in every sense!