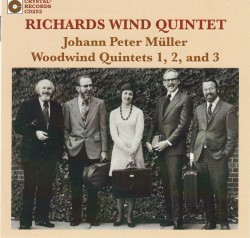 Three Quintets by Peter Müller
Richards Wind Quintet
Crystal Records CD252 (crystalrecords.com)
This recording of Johann Peter Müller's Wind Quintets has just been digitally remastered after its initial release back in 1976. Although a pastor by profession, Müller (Germany, 1791-1877) was also an avid composer, writing a substantial number of works including two operas, some organ preludes, string quintets and these three wind quintets.
All three are beautiful and charming, showcasing the best of the classical style. Müller had a deep understanding of the strengths of each wind instrument as well as how they blend together, creating works that are both virtuosic and perfectly balanced.
These works are performed expertly by the Richards Wind Quintet: Israel Borouchoff, flute; Daniel Stolper, oboe; Elsa Ludewig-Verdehr, clarinet; Edgar Kirk, bassoon; and Douglas Campbell, horn. One of the first resident wind quintets in the United States, they toured around North America from 1948 to the late 1980s, proudly representing Michigan State University and the wind quintet form as a whole.