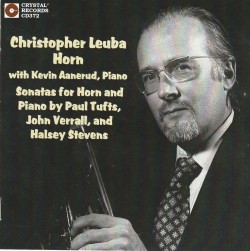 Sonatas for Horn and Piano
Christopher Leuba; Kevin Aanerud
Crystal Records CD372 (crystalrecords.com)
Why resurrect a recording of horn and piano duets almost 50 years after it was first released? It is factual that the horn – the French horn as we know it today – is a mainstay in orchestral performance, woodwind quintets and chamber jazz settings, but true virtuosos are few and far between. The late Gunther Schuller comes to mind, as does John Clark, Vincent Chancey, Canada's Jeff Nelsen, Sarah Willis who's celebrated as being the first female brass player in the revered Berlin Philharmonic and of course Toronto's own late, great Joan Watson, principal of the COC Orchestra and founder of True North Brass.
But what bearing should any of this have on Sonatas for Horn and Piano, a 1977 recording by the late Christopher Leuba? Biographically speaking, Leuba was first horn in Fritz Reiner's Chicago Symphony and appeared with the Philharmonica Hungarica under Antal Doráti. Leuba was also a noted pedagogue and his Study of Musical Intonation is considered Bach-like in its importance: "the definitive work mathematically describing true, or just, intonation, in comparison to the tempered scale." Which brings us to this recording.
Leuba truly practices what he once proverbially preached on these Sonatas for Horn and Piano by American composers John Verrall, Halsey Stevens and Paul Tufts. None of this music is considered – in our frame of reference – famous. But each is singularly eloquent; perhaps even a perfect example of how a French horn ought to sound when the spotlight is turned on it. Pianist Kevin Aanerud gently eggs Leuba on throughout, making for an utterly memorable performance.