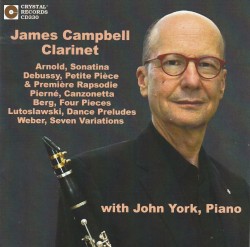 James Campbell, Clarinet
James Campbell; John York
Crystal Records CD330 (crystalrecords.com)
At what point in The Portrait of Dorian Gray does the protagonist look at his younger self in the mirror and realize something is amiss? Meanwhile the painting, hidden away, displays the truth of the ravages of time. Listening to James Campbell's delightful playlist, the greatest hits of clarinet recital literature, the novel comes to mind because of how well it applies to recorded performances.
There are eight selections on James Campbell Clarinet: Weber (Seven Variations on a theme from Silvana, Op.33); French composers who provided us with fluff, in the case of Paul Jeanjean and Gabrielle Pierné, and with one of the finest pieces in the clarinet literature, Debussy's Première rhapsodie (plus his charming exercise, Petite Pièce). Alban Berg's beautiful enigmas, Vier Stücke, Op.5, Witold Lutoslawski's dashing and elegant Five Dance Preludes and good old Malcolm Arnold's Sonatina Op.29 complete a survey of the 20th century.
The recordings, all made in the 1970s by a youthful Campbell and the excellent pianist John York, mark the start of Campbell's tremendous career in Canada and around the world. This was the era when we had few homegrown stars; they inspired a larger crowd of next-generation explorers, myself included, who hoped their success might equal Campbell's.
Let us speak in present tenses. Campbell's strengths are his fluid sound and easy brilliant technique. Always understated, he modestly nails all of the demands of this difficult literature. It does my envious heart good to hear the extremely subtle proofs that he and I share the same difficulties in the Debussy Rhapsodie.