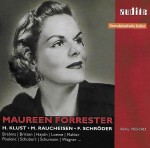 The International Classical Music Awards (which replaced the Cannes Classical Awards in 2011), a European organization with a jury of 16 professional music critics from 14 countries including Russia, this year gave an award to a set of CDs simply called
Maureen Forrester
and issued by
Audite (audite 21.437 3 CDs)
. We thought of this Canadian contralto mainly as a Mahler interpreter, as did Bruno Walter, but there was much more to her repertoire. We remember her as the witch in
Hansel and Gretel,
in
Dialogues des
Carmelites
and others but she also sang lieder as this collections affirms. Her accompanists were Hertha Klust, Felix Schroeder and the legendary Michael Raucheisen who did much more than accompany: he tutored.
There are songs and cycles by Brahms, Britten, Haydn, Carl Loewe, Mahler, Poulenc, Schubert, Schumann, Wagner, Johann Wolfgang Franck and Barber, among others. The mono recordings were made in Berlin during 1955, 1958, 1960 and 1963. Most gratifying is the opportunity of hearing and appreciating the purity of her younger voice. It really does bring a smile to your face. Clearly, Forrester was the best of the best. These discs document this.
In 1955 the music world was falling all over itself in admiration of the recently emerged Russian pianist Emil Gilels who countered with "Wait till you hear Richter." We certainly did hear Richter and through the 1950s and the1960s many other musicians, instrumentalists and singers newly arrived from the Soviet Union. Two such masters were violinist David Oistrakh and cellist Mstislav Rostropovich.
Oistrakh (1908-1974) was one of the many great violinists from Odessa. He was renowned in his own country but only after WWII was he allowed to travel outside the Soviet Union, giving his first concert in Helsinki in 1949. He was permitted to visit the United States in 1955 and was lionized worldwide.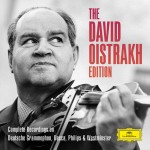 All Oistrakh recordings for DG, Decca and Philips are contained in The David Oistrakh Edition, a collection that also includes the treasured Westminster discs licensed from Melodiya (DG 4796580, 22 CDs, 70-page booklet). Assisting artists include Igor Oistrakh, Frida Bauer, Lev Oborin and Vladimir Yampolsky (pianists), Sviatoslav Knushevitsky (cello) and Hans Pischner (harpsichord). Conductors are Eugene Goossens, Bernard Haitink, Paul Hindemith, Jascha Horenstein, Dmitry Kabalevsky, Kirill Kondrashin, Franz Konwitschny and Gavril Yudin. The works for two violins find the two Oistrakhs, father and son, playing together; works by Bach, Vivaldi, Mozart, Sarasate and Wieniawski, and in Vivaldi's Concerto Op.3 No.8, which David also conducts. From 1962 there are the complete Violin Sonatas of Beethoven with Lev Oborin recorded in Paris, formerly released by Philips. The Stravinsky Violin Concerto and the Mozart B-flat Major K207 were recorded there the next year with Bernard Haitink conducting the Lamoureux Orchestra. This is not a collection of the usual works by the usual composers to be found endlessly duplicated in omnibus packages. There are some favourites but many pieces may be fresh and in these hands, quite engaging. Many musicians, mainly violinists, still hold Oistrakh, all qualities considered, as the greatest master of his instrument. It is easy to hear and know why. Complete contents at arkivmusic.com.
Rostropovich's story is somewhat different. Born in Baku, Azerbaijan SSR in1927, at the age of four he began learning piano with his mother and a few years later he began studying cello with his father. In 1943 the family moved to Moscow and he entered the Moscow Conservatory studying cello, conducting and composing. One of his teachers was Dmitri Shostakovich. He graduated in 1948 and became a professor of cello there in 1956. He did rather well and composers Prokofiev and Shostakovich dedicated major works to him. He made recordings for Melodiya and some of those were issued in North America by the new and flourishing label, Westminster. The performances were so strikingly powerful that when he debuted in the West he was eagerly awaited. His first concert was at the Conservatoire in Liège in 1963 in association with conductor Kirill Kondrashin. When the word got out his international career took off. Kondrashin himself had achieved international recognition in the West in 1958, conducting for Van Cliburn's First Prize in the First International Tchaikovsky Competition in Moscow and later on tour together. Soon audiences around the world were lining up to see and hear that cellist with the big sound, Mstislav Rostropovich.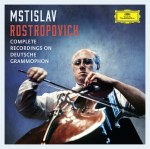 All the recordings that he made for DG, Decca and Philips are in Mstislav Rostropovich complete recordings on Deutsche Grammophon plus the Russian Melodiya discs that were issued by Westminster (DG 4796789, 37 CDs, 72-page booklet). It is not possible to list all the extraordinary performances gathered here but there are some timeless performances, newly remastered: the Beethoven String Trios with Anne-Sophie Mutter and Bruno Giuranna; Beethoven's Five Cello Sonatas with Richter; the two Brahms Cello Sonatas with Rudolf Serkin; conducting Schumann and Chopin Second Concertos with Argerich and the National Symphony Orchestra; Dvořák's Cello Concerto and Tchaikovsky Rococo Variations with Karajan and the BPO; Rachmaninoff, Glinka, Mussorgsky, Tchaikovsky and Prokofiev songs as pianist with Galina Vishnevskaya. And finally, lest this begins to resemble a laundry list, three different performances of the heavenly Schubert String Quintet in C Major D956: with the Taneyev Quartet, Leningrad, 1963; with the Melos Quartet, Zurich, 1977 and with the Emerson Quartet, Speyer, 1990. Each performance is better than the other two. Again, check arkivmusic.com for complete contents.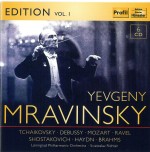 For over half a century serious collectors have sought out recordings by the late Yevgeny Mravinsky (1903-1988) conducting the Leningrad Philharmonic Orchestra. It didn't matter the repertoire, just seeing Mravinsky on the record cover was usually all that mattered. We heard them here In November 1973 when they played Toronto's Massey Hall to overwhelming success, in spite of an organized protest. Profil has launched a Yevgeny Mravinsky Edition with Volume 1 containing a cross-section of the issued recordings from Haydn to Shostakovich (PH15000, 6 CDs). This is at least the third label to have such a collection. BMG's collection amounted to only 20 CDs, Erato managed to issue 10 CDs. This new edition contains Tchaikovsky's Fourth, Fifth and Sixth, Haydn 101, Mozart 39, Shostakovich 12, Debussy's La Mer and two Nocturnes and Ravel's Boléro and Pavane pour une infante défunte. In complete editions of any artist or ensemble, correct recording dates are important. Unless my records are in error, there are three entries new to these former collections: the Brahms Second and the Tchaikovsky First Concertos with Richter from May 14, 1951, and July 24, 1959, and a Shostakovich Sixth from 1946.