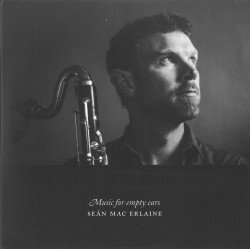 Seán Mac Erlaine – Music for Empty Ears
Seán Mac Erlaine; Jan Bang; Eivind Aarset; Sadhbh Ní Dhálaigh
ergodos ER28 (ergodos.ie)
Music for Empty Ears gives the perfect hint to what you are about to hear on this new release by Dublin-based woodwind instrumentalist, composer and producer Seán Mac Erlaine. It comes as no surprise that he was noted as one of the most progressive musicians of his generation in Ireland – his music is truly unique. On this album, Mac Erlaine collaborated with two Norwegian artists, live sampling pioneer Jan Bang and guitarist Eivind Aarset. Together, they have created a sonic story that will play with your perceptions of time and space, and make your ears beat with pleasure.
I was immediately taken by the first track on this album, Winter Flat Map. The music ushered me into the post-apocalyptic space of pulsating sound waves, enriched with ethereal clarinet lines. This tune was followed by The Melting Song, featuring tranquil vocals (the fantastic Sadhbh Ní Dhálaigh) and gentle minimalism. And so the journey begins into the world of Mac Erlaine. Although sparse at times, the music is so richly textured that one truly needs to start listening with empty ears or, rather, without any preconceived notion or expectations. Layers upon layers are laid down with a variety of woodwind instruments, electronics, guitar, keyboards and vocals, creating a world of wonders, surprises, haunted melodies and melancholic impressions. This album is a gem.