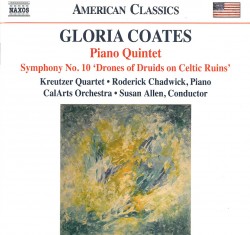 Gloria Coates – Piano Quintet; Symphony No.10 "Drones of Druids on Celtic Ruins"
Kreutzer Quartet; Roderick Chadwick; CalArts Orchestra; Susan Allen
Naxos 8.559848 (naxos.com)
Gloria Coates' mesmerizing music combines Penderecki's complex textures from the 1960s – glissandi, clusters and microtones – with the trance-inducing repetitions of age-old ritual music, as adopted by today's "mystical minimalists." Coates, who turns 80 this October, was born in Wisconsin but has lived in Munich since 1969. She's composed prolifically across all genres, including 16 symphonies and ten string quartets, many available on Naxos CDs, her abstract-expressionist paintings reproduced on their covers.
In the four slowish movements of her 22-minute Piano Quintet (2013), the Kreutzer Quartet, half of them tuned a quarter-tone higher than the others, sustain solemn, wordless, monkish chants over sporadic bass chords from pianist Roderick Chadwick, evoking a bell tolling each stanza.
Coates' 36-minute, three-movement Symphony No.10 (1989), subtitled Drones of Druids on Celtic Ruins, is scored for brass and percussion, the second movement for percussion alone. Coates writes of "reading how the Celts keened and clapped over their dead with wild, trembling voices." The symphony ends, she says, "with frightening keening and anxious drumming that seem to harbour the screams and crying of the banshees."
Every movement of the Quintet and the Symphony has a title taken from Emily Dickinson's poems. Coates describes how they connect to the music, but I couldn't hear the connections, hearing only her truly enthralling sonorities. Moreover, not being mystically inclined, I found that even these, eventually, became somewhat tedious.
Hear her unique music, judge for yourself.