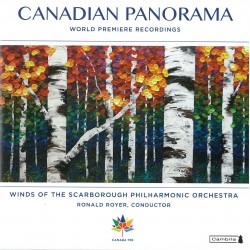 Canadian Panorama
Winds of the Scarborough Philharmonic Orchestra; Ronald Royer
Cambria CD-1227 (spo.ca)
Under the inspired leadership of music director Ron Royer, the Scarborough Philharmonic Orchestra not only presents an annual concert series but has also created an identity for its woodwind, brass and percussion sections as a professional level wind ensemble in its own right, performing demanding music for wind ensemble and now recording a complete CD of music commissioned for it as part of the orchestra's dynamic composer-in-residence program.
Seven of the eight Canadian composers on the CD (the eighth was the late Howard Cable, a longtime associate of the SPO) were commissioned in 2013 to compose "music that would celebrate Canada's cultural heritage and expand the repertoire for our talented wind players." They have done their job brilliantly: while all eight are very capable orchestrators, three in particular stand out: Chris Meyer's control of tone colour in Fundy is striking, as is Alexander Rapoport's in his spiralling virtuosic writing in Whirligig, flawlessly played by this ensemble of virtuosi. Howard Cable's mastery, more traditional perhaps and understated, in McIntyre Ranch Country was, nevertheless, a very welcome addition to the mix.
In Royer's Rhapsody for Oboe, Horn and Wind Ensemble the confidently virile solo horn of guest soloist Gabriel Radford and guest oboist Sarah Jeffrey's poignant lyricism were highlights. There was also some very fine solo work by regular members of the ensemble: Scott Harrison on trumpet in Alex Eddington's Saturday Night at Fort Chambly, Kaye Royer on the clarinet in Jim McGrath's Serenade and Iris Krizmanic on horn in McIntyre Ranch.
In short, this recording and the music so beautifully performed on it are, and will continue to be for many years, a precious gift to us all in the year of our nation's 150th birthday.