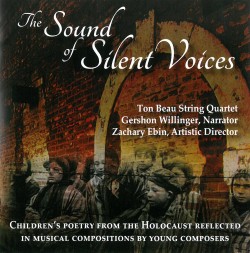 The Sound of Silent Voices – Children's Poetry from the Holocaust Reflected in Musical Compositions by Young Composers
Ton Beau String Quartet; Gershon Willinger; Zachary Ebin
Independent (silentvoicesproject.zacharyebin.com)
A few years ago, violinist, music educator and founder/artistic director of the Silent Voices Project, Zachary Ebin, was doing some research at York University and happened upon I Never Saw Another Butterfly, a collection of Jewish children's drawings and poems, created from 1942 to 1944, during their imprisonment in the Theresienstadt concentration camp.
With the knowledge that only about 100 of the 15,000 children sent to Theresienstadt survived, combined with being deeply affected by the children's heart-wrenching poetry, Ebin was inspired to find a way to keep their voices alive. His idea of having contemporary, young composers create musical works based on that poetry was the genesis of the Silent Voices Project and this ensuing CD.
Fourteen composers, from Toronto, Waterloo, Philadelphia, Cleveland and Chicago, aged 10 to 20 (not unlike the young poets in Theresienstadt) participated. With their astonishing and profoundly moving works, each of them has demonstrated remarkable skill, dignity and maturity beyond their years. Performing their stirring trios and quartets on The Sound of Silent Voices is Toronto's outstanding Ton Beau String Quartet. Gershon Willinger, who at age two was among the youngest children liberated from Theresienstadt, provides another layer of gravitas, reciting each poem prior to its musical reading.
This is an exceptional project, a heartfelt labour of love and respect. These evocative young voices – both the poets and the composers – deserve our attention. Set aside some quiet time to listen to The Sound of Silent Voices.