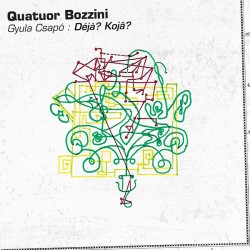 Gyula Csapó: Déjà? Kojâ?
Quatuor Bozzini
Collection QB CQB 1821 (actuellecd.com)
Founded in 1999, Quatuor Bozzini are distinguished interpreters of contemporary repertoire, including fine recordings of John Cage, James Tenney and Steve Reich. Here they present a particularly challenging work, a three-part, 73-minute piece composed between 2011 and 2016 by Gyula Csapó, a Hungarian composer currently teaching at the University of Saskatchewan. His music suggests the influences (including scale and depth) of Morton Feldman and Arvo Pärt. Csapó's brief note about this work is dauntingly abstract ("event-fossils," "fractals"), but the core is in the title, Déjà? Kojâ? part French, part Persian: "Already?" is easy. "Kojâ?" comes with a poem that suggests "Threshold" as the crucial sense, and that this world is a threshold, the beginning of another experience or existence, a step both inevitable yet deferred.
The work is monumental, developing thick, often dissonant textures. Its long first section is anchored to a repeating oscillation, brief but slow, between low-register cello and viola and high, reedy violins. Seconda Parte is more varied, adding other sonic devices, including moving the contrast of registers to pizzicato lows and whistling harmonic glissandi from the violins. Terza Parte eventually expands the oscillating figures into a still minimalist, but gradually evolving melodic shape.
It's a demanding work, a dark reverie that suggests anticipation while dramatizing its delay, a sombre meditation shot through with bright highs that are themselves dissonant. At once static and tumultuous, this is depth experience, rewarding all the attention one can give it.