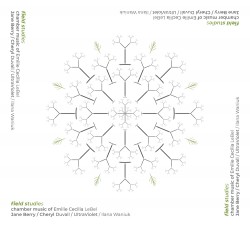 Emilie Cecilia LeBel – field studies
Jane Berry; Cheryl Duvall; UltraViolet; Ilana Waniuk
Redshift Records TK530 (emilielebel.ca/discography)
Prolific Canadian composer Emilie LeBel has roots in the contemporary concert music scenes in Toronto and Edmonton. Recorded in both cities, field studies features five chamber works composed between 2016 and 2022.
It's tempting to describe LeBel's accomplished and mature compositional language as postminimalism. On closer listening however, it's in turn austere, serene and sonically challenging, but also lush and lyrical. It embraces solitary long tones as well as complex harmonies and microtonal gestures. This complexity questions any neat "minimal" pigeonholing.
Another sonic signature is LeBel's ingenious use of coloured noise, exploiting the vast spectrum between conventional instrumental tone and white noise. In even if nothing but shapes and light reflected in the glass for alto flute, baritone sax and electronics, "tactile transducers on prepared snare and tom drums" supply the sonic grit. They provide a textural counterpoint to the two wind instruments' built-in wind sounds as well as to their more typical lyrical voices.
Nor is LeBel afraid of boldly combining inherently contrasting instruments. For example, evaporation, blue is scored for the unlikely paring of piano and harmonica, both played with conviction and delicacy by Toronto pianist Cheryl Duvall.
LeBel's considerable orchestration chops are aided by her close attention to the strengths and limitations of instruments and voices. Beautifully played by Ilana Waniuk, further migration for solo violin illustrates the former, while drift for voice and chamber ensemble animated by Jane Barry's relaxed voice, the latter. I wouldn't be surprised if an opera is in LeBel's future.