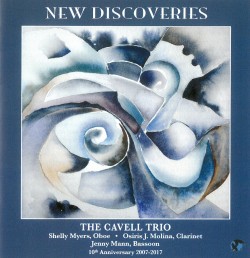 New Discoveries
Cavell Trio
Blue Griffin Records BGR447 (bluegriffin.com)
A trio named for a heroic WW1 nurse, or for the mountain named for Edith Cavell, I'm not sure which, has compiled more than their share of recordings of new works and released them on this disc. Sharing five reeds between them, they also share a deft rhythmic sense and more-than-decent pitch; nor is this surprising, as they work together as section mates of the Tuscaloosa Symphony.
The material is charming and spunky, matched by solid and able instrumental performances by Shelly Myers (oboe), Osiris Molina (clarinet) and Jenny Mann (bassoon). They are at their best in the more challenging works, the opening track Devil Winds by Greg Simon, Ron Wray's Trail Mix and Trois Pièces by Jeanine Rueff. Much of the other material suffers from an amiable sameness, exacerbated by unremitting reediness. The virtue of blend becomes somewhat a cloying sin over the course of this remarkably large collection. It is as though the composers who interest the group all choose similar movement durations, and stick to conventional sequences of mood and tempi. Or perhaps the group has developed a sort of signature set of tempi for slow, medium and fast. Or maybe there is simply too ample a range of pieces featuring this same group and too narrow a stylistic range of composers presented for it to be something to listen to straight through.
Carping aside, the playing is consistently good: their blend, pitch and rhythmic unity serve the composers well. The disc provides a resource for other trios who might want to pick and choose among the material presented.