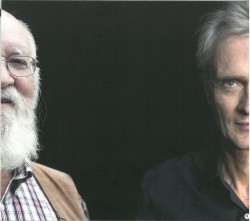 Scott Johnson – Mind Out of Matter
Alarm Will Sound; Alan Pierson
Tzadik TZ 4021 (alarmwillsound.com)
I have read, with pleasure, books by secular-humanist philosopher Daniel Dennett on evolution (Darwin's Dangerous Idea), religion (Breaking the Spell) and consciousness (From Bacteria to Bach and Back). So I was curious to hear this 73-minute, eight-movement work by American composer Scott Johnson (b.1952), using as musical materials the pitches and rhythms of Dennett's spoken words, recorded at a talk about Breaking the Spell and in interviews with the composer.
Johnson calls his technique, used in this and previous compositions, "speech melody," adding that Mind Out of Matter contains "musical references ranging from Baroque recitative to retro funk grooves." Dennett's speaking style is conversational and Johnson's instrumental score is conversational, too, lacking extended melodies or dramatic climaxes. Johnson repeats some of Dennett's words and phrases many times, usually clearly heard but occasionally submerged under the colourful, ambulating music, mixing elements of classical, rock and jazz. It's performed by Alarm Will Sound, 17 players on strings, winds, brass and percussion, including alto sax and electric guitar, conducted by Alan Pierson. In one movement, the musicians contribute a chanted chorus.
In Surrender, the longest movement, Dennett asserts that religions – "ideas to die for and kill for, even if it doesn't make sense" – have, like biological organisms, evolved by natural selection.
Dennett's books drew me to this music. If, in turn, listeners are led to read Breaking the Spell, Johnson's composition will have helped increase their understanding of why people believe as they do.