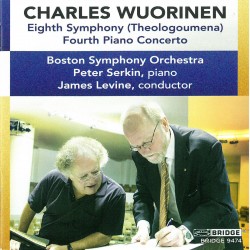 Charles Wuorinen – Eighth Symphony; Fourth Piano Concerto
Peter Serkin; Boston Symphony Orchestra; James Levine
Bridge Records 9474 (bridgerecords.com)
In his heyday, conductor James Levine was known as a staunch advocate of the American high modern school of practitioners of Arnold Schoenberg's serial method, commissioning new works from Elliott Carter, Milton Babbitt and Charles Wuorinen during his tenure as music director of the Boston Symphony. Bridge Records, with considerable philanthropic support, has now issued a commemorative disc of two major works from the last man standing of that compositional triumvirate. The first of these, Wuorinen's Eighth Symphony, bears the arcane subtitle, Theologoumena, defined by the composer as "a private non-dogmatic theological opinion." Make of that what you will. Formally it is cast in a conventional order of three fast-slow-fast movements, expressed in a no-compromise, often abrasive, language. That language is nevertheless in many ways a very traditional and approachable one; there are no extended instrumental techniques or a smidgen of spectralism to be found in his highly contrapuntal style. The first movement of the symphony is a wild ride of unbridled energy, dense and frenetic; the second movement is marginally more restrained, while the finale brings the percussion and piano to the fore for a thunderous conclusion. The ensemble of the Boston musicians is pushed to the edge in this high tension recording of the 2007 premiere performance.
The performance of Wuorinen's compelling Fourth Piano Concerto from 2005 is considerably more assured, in large part due to Peter Serkin's admirable mastery of the demanding solo piano part and the composer's more lyrical approach in this work. All three movements of the concerto maintain a constant, mercurial energy leavened with explosive outpourings of orchestral frenzy. This is tough music to love, but easy to admire.