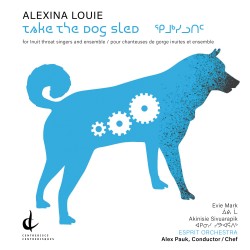 Alexina Louie – Take the Dog Sled
Evie Mark; Akinisie Sivuarapik; Esprit Orchestra; Alex Pauk
Centrediscs CMCCD 28320 (cmccanada.org)
Evie Mark and Akinisie Sivuarapik practice and work to preserve traditional Inuit culture in northern Quebec's Nunavik region; they have performed as throat singers around the world. Alexina Louie is one of Canada's most distinguished composers, and the Toronto-based Esprit Orchestra, conducted by Alex Pauk, champions contemporary music and innovative approaches. As the Centrediscs program notes state: "Take the Dog Sled is a celebration of life in the Inuit communities in Canada's far north." Composed for Montreal Symphony musicians in 2008, it consists of eight musical numbers, five of which feature traditional Inuit songs. In throat singing, two women interact closely, facing each other. Louie's scoring for the seven-member instrumental ensemble is lean and transparent, minimalist at times, supporting and adding musical variety to the singing.
Sharpening the Runners on the Dog Sled is the first song, appealing and rhythmic as the activity suggests. Cradle Song is instrumental, a mother's love for her child expressed simply then becoming more complex with cross-rhythms and parallel lines. The Mosquito is another traditional song, with added staccato, pizzicato, and a buzzing double bass tone; the instrumental Bug Music carries forth the humourous possibilities. I especially like the throat singing in The River, combining suggestions of flow and fear. The work has succeeded with audiences in many parts of the world, and is suitable for listeners of all ages. It is an achievement for which the contributors indeed deserve congratulations!