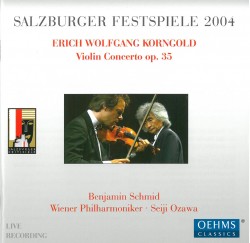 Korngold – Violin Concerto; Much Ado About Nothing; Suite Op.23
Benjamin Schmid; Wiener Philharmoniker; Seiji Ozawa
Oehms Classics OC 537 (oehmsclassics.de)
This is a set of live performances from the Salzburg Festival of 2004 entirely devoted to Erich Wolfgang Korngold, a composer of extraordinary talent, whose music was forbidden in the Nazi era. He escaped Austria in 1937 and settled in the USA and had a successful career in Hollywood writing film scores, but gave it up and continued writing symphonic and chamber music of the highest calibre – as proven by this recording. Korngold was also the last bastion of tonality, continuing the Romantic vein of Richard Strauss and Mahler as opposed to Schoenberg, Webern and Berg, the atonalists.
I came to Korngold via his opera Die Tote Stadt (1920) a post-Romantic masterpiece that haunted my imagination for years, but his Violin Concerto is a later work written in 1947 and I would rate it after the Sibelius as one of the best in the 20th century. It starts off with an enchanting, heavenly melody on the solo violin that makes us fall in love with it immediately. And the love affair lasts through the wonderful first movement and the ensuing extraordinary harmonies of the celestial Romance and exuberant Finale. It was premiered by Jascha Heifetz, but here Benjamin Schmid gives a more subtle interpretation with his "Lady Jeanne" Stradivarius that "sings and pipes, hops and thrills, languishes yearningly and sings dreamily." Not to mention the Wiener Philharmoniker under Seiji Ozawa's subdued and brilliantly integrated support in a performance to be cherished through the ages.
In the chamber Suite Op.23, with a left-hand-only piano part, Korngold is playing with traditional forms in an entirely original manner but with "imagination full of powerful imagery" and "sweet melodies that suggest a R. Strauss-Puccini even Lehár connection." (Gottfried Kraus)