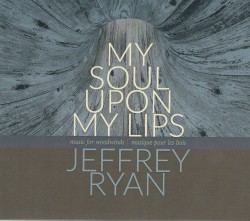 Jeffrey Ryan – My Soul Upon My Lips
Various Artists
Redshift Records TK469 (redshiftrecords.org)
A labour of love by Canadian composer Jeffrey Ryan, My Soul Upon My Lips is a collection of music for solo woodwinds ten years in the making. Two larger works with piano bookend eight short solo pieces for a full complement of instruments from the woodwind family. Ryan captures the essence of each instrument with the use of a variety of 20th-century techniques to masterfully explore a range of colours and emotion. Aside from the use of the usual winds from an orchestra, Ryan also employs the tárogató and the alto saxophone, adding a unique timbre not often showcased in classical music, making this albums' repertory approach uniquely his own.
In close collaboration with individual performers, each piece has been tailored to play to the strength of their instrument and highlight its spectrum of possibility – ingeniously invoking feelings from haunting to celestial and everything in between. My Soul Upon My Lips is an emotionally inspirational collection of character pieces that gives first place in title to no one instrument, uniting all in a stylish reformation of 20th century form in a 21st-century embodiment.
With a starry lineup of instruments and Ryan's soaring imagination, these pieces are a welcome addition to any artist's repertoire and would prove to be an engaging and exhilarating selection for a recital.