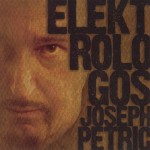 Electrologos
Joseph Petric
ConAccord (www.josephpetric.com)
We've come a long way since Canadian scientist Hugh LeCaine (1914-1976) invented the "Electronic Sackbut", the world's first voltage controlled synthesizer in 1945. Live electronic art was born, and the three electroacoustic composers featured on accordionist Joseph Petric's new release all play homage to LeCaine in their artistic manipulations.
Take a listen to current mainstream popular music on the radio – all the same tweaks, loopings and sounds can be heard on "Elektrologos" too. Bob Pritchard's Breathe on Me (O Breath of God...) is an ethereal soundscape. Larry Lake's early booming Sticherarion shows the composer experimenting with technology while his later work, Fractals is more of a techno-chamber work. Finally the great Orbiting Garden by Christos Hatzis is a sound explosion – Petric plays nonstop with florid musical rock star lines. This is the powerhouse performance and piece.
Accordionist Joseph Petric is an accomplished, sensitive and intelligent musician who has an international following both for his live performances and his prolific recorded output. He can play any style, but don't get me wrong, he is really in his element in the world of electroacoustic music. He absolutely shines – it is especially his impeccable bellows control that shapes the dynamic interplay between accordion and "sound machines" here.
A thousand raves to Joseph Petric and the composers. This is an accessible and culturally important aural experience to be heard time and time again.