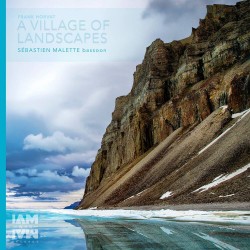 Frank Horvat – A Village of Landscapes
Sébastien Malette (bassoon); Allison Wiebe (piano)
I Am Who I Am Records (frankhorvat.com)
I've reviewed several albums by prolific Toronto composer and pianist Frank Horvat for The WholeNote. His often Romantically inclined, emotionally charged music often also employs a dizzying array of heartfelt, compelling extra-musical themes. These range from the personal (love, mental health), to the social (environment, social justice), and a combination of the two (dealing musically with pandemic isolation).
A Village of Landscapes, perhaps his 21st album, features a suite of 13 compositions stylishly and convincingly performed by bassoonist Sébastien Malette, in five movements accompanied by Allison Wiebe on piano. The 13 pieces are furthermore divided into three mini-suites: for bassoon with piano, unaccompanied bassoon and bassoon with electronics.
For example, the atmospheric movement Smoking Hills is scored for hazy basso profundo contrabassoon sounds and bass-heavy piano, while Sharbot Lake features a continuous high bassoon melody over shifting, phasing synth chords. Top of FormTop of Form
In this album Horvat's thematic inspiration was supplied by photographs of places in the Canadian landscape by Michelle Valberg, representing each of the country's ten provinces and three territories. Horvat writes, "Our present world is at a precipice when it comes to protecting our natural resources, so as an artist, I feel I have a duty to have my compositions reflect this.
"The bassoon is a VERY versatile instrument. It has a wide range of notes, timbre contrasts and dynamics," avers Horvat. In A Village of Landscapes he successfully explores many less-known characteristics of the instrument, working against stereotypes of buffoonery and jollity that too often plague the bassoon.