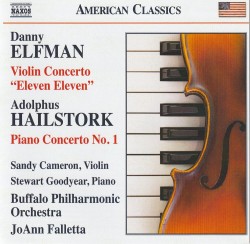 Danny Elfman – Violin Concerto "Eleven Eleven"; Adolphus Hailstork – Piano Concerto No.1
Sandy Cameron; Stewart Goodyear; Buffalo Philharmonic Orchestra; JoAnn Falletta
Naxos 8.559925 (naxos.com/featurePages/Details/?id=Danny_Elfman_Adolphus_Hailstork)
This significant release juxtaposes two diverse, American composers and also celebrates multiple Grammy-winning conductor JoAnn Falletta and her 125th recording with the Buffalo Philharmonic Orchestra. The two artists represented here could not be more diverse – Danny Elfman, known primarily as a film composer with an array of notable contemporary scores as well as creative relationships with brilliant writer/directors such as Tim Burton… and Adolphus Hailstork, who plumbs the depths of his potent African American heritage to manifest works embodying elements of jazz and blues, as well as motifs of indigenous West African musics.
Lauded violinist Sandy Cameron is the featured performer in Elfman's four-movement opus, while phenomenal pianist Stewart Goodyear propels Hailstork's stirring concerto. Elfman's Violin Concerto "Eleven Eleven" (2017) begins with a movement of stirring beauty, reflected in languid, dynamic bass lines and heart-stopping contrapuntal string work, all embraced in Cameron's masterful, emotional and facile performance. The subsequent three movements, Spietato, Fantasma and Giocoso; Lacrimae also draw the listener into the miasmatic realm of the fantastic, manifested through the organism of the full orchestra.
Hailstork's three-movement Piano Concerto No.1 (1992) is magnificently performed by Goodyear. At once delicate and percussive, Hailstork's writing seems both luminous and yet deeply imbedded in the tangible human experience. His use of brass is incomparable, and although Hailstork and Elfman are two generations apart by birth, the creative output of these two gifted artists is conjoined by American viscera, without becoming static within linear time. The Buffalo Philharmonic continues to thrill as they skillfully move through these difficult pieces, and under the baton of the redoubtable Falletta, the large ensemble moves as one creature – embracing every dynamic, subtlety and nuance.