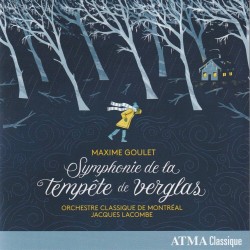 Maxime Goulet – Symphonie de la tempête de verglas (Ice Storm Symphony)
Orchestre Classique de Montréal; Jacques Lacombe
ATMA ACD2 2866 (atmaclassique.com/en)
January 1998 – a meteorological disaster leaves millions across eastern Ontario, southern Quebec, New Brunswick and Nova Scotia without power, many for weeks. It's recalled now in the 40-minute Ice Storm Symphony by Maxime Goulet (b. Montreal 1980). (Titles appear in French and English; I'll give the English.)
Turmoil describes the storm with icy crackles, surging rhythms, crescendoing dissonances and pounding percussion. In Warmth, a raucous Quebec folk dance represents people finding refuge with others having access to fireplaces or electricity. Goulet wants the lights off during performances of the sombre, spookily pulsating music of Darkness to evoke "the feeling of ultimate vulnerability that seized us during those dark nights." Returning lights, fanfares and tolling bells in Light celebrate the restoration of "normal life," a happy ending to this vivid, colourful symphony.
Two shorter works by Goulet employ theatrical visual effects, described in the booklet. The cinematically scored, 13-minute What a Day, using ticking clocks, conflates one day with an entire lifetime, from Joyful Morning (birth) to Long Day at Work, Tête-à-Tête Evening and Serene Night (death). The nine-minute Fishing Story for clarinet (here, Kornel Wolak) and strings, inspired by Hemingway's The Old Man and the Sea, veers from moody waves and seagull cries to repeated slapstick splashes.
These works, all commissioned by Orchestre classique de Montrėal, are spiritedly conducted by Jacques Lacombe. Goulet dedicates this CD to the late Boris Brott, who conducted the premieres of What a Day and Fishing Story.