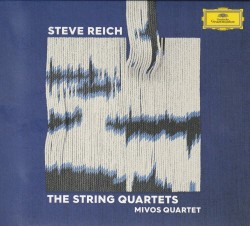 Steve Reich – The String Quartets
Mivos Quartet
Deutsche Grammophon 486 3385 (store.deutschegrammophon.com/p51-i0028948633852)
Influential American composer Steve Reich's portfolio contains three string quartets – Different Trains, Triple Quartet and WTC 9/11 – completed between 1988 and 2010. Reich recently suggested the Mivos Quartet revisit them for this album. Working in close collaboration with the composer, they make a powerful case for fresh interpretation of these quartets, bringing admirable clarity and taut precision to their performance.
The masterful Different Trains is a deeply biographical work. The title refers both to the American trains the young Reich took shuttling between separated parents, before the USA entered World War II and also the "different trains" destined for European death camps.
The fast, motoric first movement effectively captures the exciting, abruptly shifting energy of Reich's train rides. Judiciously interspersed with recordings of voices (porters, his governess), and of train horn blasts, they imbue the string quartet with a compelling narrative and sense of geography and time.
A key feature of this quartet, as well as of WTC 9/11, is Reich's "speech melody" technique. In it he crafts melodic phrases and metric structures mimicking the tonal contours and rhythms of sampled voices, turning them into instrumental motives, then superimposing them on the spoken word passages.
In movement II, train horns transform into a polyphonic shriek of sirens. Human voices here are survivors of the Holocaust describing their train trips to the death camps.
The final movement, set after the War, interweaves European and American voices aiming to recap previous stories and musical elements, valiantly trying to make sense of what happened – as many of us also are.