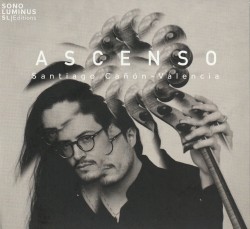 Ascenso
Santiago Cañón Valencia
Sono Luminus SLE-70028 (sonoluminus.com)
Cellist Santiago Cañón-Valencia is no stranger to the world stage, being an award-winning performer beyond his native Colombia. This is an artist from whom sound and texture flow with ease and authenticity. Ascenso is a fantastical album filled with scenic tours through countrysides, congested cities, mountain regions and flightpaths of monarch butterflies. The album is solo cello but feels full and rich, due in part to the compositions themselves, but mainly in response to Cañón-Valencia's chameleon-like ability to inhabit the culture and place of each piece and execute them with stunning skill.
La ruta de la Mariposa, commissioned from Damián Ponce de León, is a piece in three movements describing a reverence for the flight of the butterfly, the murder of an environmentalist devoted to protection of monarch butterflies in Mexico and the discovery of the shape of the thyroid gland. Mesonoxian (relating to midnight) is a melodic study of dark and light, commissioned by the cellist from Jorge Humberto Pinzón Malagón, followed by the only "vintage" composition on the album, Asturias by Isaac Albéniz, originally written for piano and transcribed for cello by the artist.
Urban Rhapsody, inspired by the city of Bogota (which the composer Leonardo Frederic Hoyos describes as "Heaven and Hell") is simply stunning. Using a scordatura tuning, meaning the cello is retuned in this case to A, D, F, B-flat, this already difficult piece brings new challenges but rewards us with an openness to the sonority of the cello and new possibilities for chord structures. The result is a breathless account of a single day within this major city, a closeup of microcultures full of contrasts between classes, social structures and people.
The final track Ascenso Hacia Lo Profundo, composed by Cañón-Valencia, has an improvisatory feel, with energetic, cascading rhythmic flow, rounding out a beautiful and accessible album and letting us down gently.