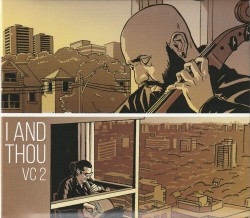 I and Thou
VC2
Leaf Music LM255 (leaf-music.ca)
Toronto cellists Amahl Arulanandam and Bryan Holt have been the busy and well-loved duo V2 since meeting in 2008 while at the University of Toronto; after both completed their master's degrees at McGill, they reconvened to continue their musical partnership.
Their latest album I And Thou sets out to explore what has become the post-pandemic theme of relationships between humans and the world around us. Including several Canadian commissions, the album opens with composer Jocelyn Morlock's (2016's Juno for My Name Is Amanda Todd) Violet Hour, a lush and picturesque sound painting of the time just before sunset, written in three short movements for cello quartet and featuring guests Andrea Stewart and Paul Widner. Vincent Ho's Heist 2, a moto-perpetuo duet inspired by the duo's improvisations, was expressly written to highlight the individual characteristics of both cellists and is dynamically accompanied by drummer Ben Reimer. Laura Sgroi's Discord paints a painful portrait of not belonging in one place, beautifully depicted by blending classical, jazz and pop sensibilities with pianist Stephanie Chua. Chris Paul Harman's Suite for Two Cellos, with seven powerful movements styled after Bach, is a subtly organic and energetic re-interpretation of traditional early harmonies that solidly anchors the middle section of the album. Followed by Duet for Two Cellos by Youell Domenico, and the final duet I And Thou by Kati Agócs, based on a book by Martin Buber, a fusion of both cellos spun into a single, tightly wound rope.
My favourite track is Kelly-Marie Murphy's challenging Final Glimpse, a fantastical exploration of the 1937 crash of the Hindenburg. Her experimental addition of recorded materials and sounds flows seamlessly with the duo's interpretation and personal style, creating one of the strongest pieces on the album.