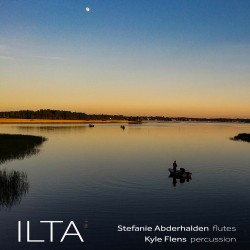 ILTA
Stefanie Abderhalden; Kyle Flens
Neuma 162 (neumarecords.org)
Chicago-area musicians – flutist Stefanie Abderhalden and percussionist Kyle Flens – get top billing in this satisfying, yet also occasionally quirky, recital of modernist and postmodernist concert music. Despite the billing on the cover, the album's repertoire is considerably more focused on percussion than flute: five of the seven titles are scored for percussion alone. In addition, percussionists Malika Green, Katie (Wiegman) Burdett and Thomas Loretto add their skills to works by American composers Robert Fleisher, Robert Honstein, David Maki, plus iconoclastic Greek-French composer Iannis Xenakis.
Live performances, studio recordings and electroacoustic elements can all be found on this eclectic album. Yet it all hangs together as a satisfying percussion-centric recital. The 2008 title track Ilta ("evening" in Finnish) by Maki opens with Thai gongs, the alto flute and vibraphone sounds emerging from their resonant tones. The middle section's instrumentation shifts to the higher C flute and crotales, the soundscape returning in last section to gong long tones animated by flute melodies.
The best-known work here is Rebonds A (1988) by Xenakis (1922-2001). This virtuoso work for multiple bongos, tom-toms and bass drums, played convincingly by Flens alone, grows ever more complex over its 6'33'' duration. Exhibiting a kind of rhythmic accelerando or perhaps metric compression, it reflects the composer's considerable interest in mathematics, specifically in the Golden Section, a numeric ratio associated with the Fibonacci sequence. I found Flens' performance an architecturally taut and emotionally intense listen.