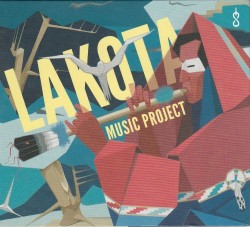 The Lakota Music Project
South Dakota Symphony Orchestra; Delta David Gier
Innova 1 081 (innova.mu)
This highly creative project is a stunning combination of material composed by six gifted Indigenous Americans of the Lakota Sioux nation featuring the eminent South Dakota Symphony under the musical direction of Delta David Gier. The Lakota Project is a brilliantly constructed collection of music specifically written and designed to dissolve the walls between the Lakota peoples and their horrific history of abuse and near genocide at the hands of European settlers. The music itself was created in an atmosphere of trust and open communication and is a pure, resplendent boon to the process of reconciliation.
Black Hills Olowan by Brent Michael Davids features the Creekside Singers dynamic; mystical motifs depict the incredible power of natural forces and the ensemble's magnificent voices serve to intensify the magic. The composition and arrangement here are nothing short of superb, and awash with emotional and musical gravitas – chaos and destruction, and then rebuilding. Also exceptional is the six-movement, Victory Songs (Wakétgli olówan) by Jerod Impichchachaaha' Tate, which fluidly moves the listener through time and history – from the beginning of the world to the horrific murder of Sitting Bull. Stephen L. Bryant's sonorous voice digs deep into the soul, at once elevating us up into etheric dimensions and plunging us back down into the grief and horror of one group of the human race determined to exterminate another.
Of particular delight is Desert Wind by guitarist Jeffrey Paul. Paul drags us into the present time and place with his cheeky, relentless electric guitar, soothed by Robert Erhard and Sharon Mautner-Rodgers on cellos and the Creekside Singers. The closing track is (ironically) John Newton's 1772 Christian hymn, Amazing Grace. Arranged by Theodore Wiprud, this song celebrates a transformation that speaks to the oneness of all… a radiant and much needed message in our present world.