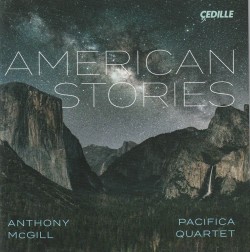 American Stories
Anthony McGill; Pacifica Quartet
Cedille CDR 90000 216 (cedillerecords.org)
This is a great recording. What is not to like here? The Pacifica quartet are excellent, Anthony McGill turns the clarinet into a beautiful distinct voice, and the stories? Well, let's talk.
Leaving aside the question of whether music can function as narrative, let's at least say that while American Stories doesn't push the inclusion-and-equity button too hard, it includes equally compelling tales from a variety of voices. Richard Danielpour's threnody Four Angels reflects on the aching sorrow caused by the Birmingham church bombing now almost 60 years in the past. The angels are the four young girls who lost their lives to the hatred of a racist. The piece derives real beauty from that reflection and opens our hearts to hope. Despicable acts seem to be part of the curse of humanity, and courage and hope two blessings we require in order to persist. Commissioned by McGill in early 2020, it was premiered online in 2021.
The longest and most entertaining work is the final one, Valerie Coleman's Shotgun Houses. Coleman grew up in West Louisville, Kentucky as did the subject of the piece. Muhammed Ali's early life and rise to prominence as an African American hero is depicted in three movements: the first, with the same title as the entire work, describes the neighbourhood itself, the architecture of poverty celebrated for the strength of the inhabitants. Grand Avenue is one of those streets, notably Ali's home address when he was still Cassius Clay and before his Olympic triumph in Rome 1960. In this last movement Coleman pencil strokes Ali at the speed bag, on a flight (his first ever) to Rome, and in the ring for three rounds on his way to the gold medal, in under seven minutes; the entire work lasts about 18. I hope the composer at least considers whether it might be expanded, perhaps even with an epilogue to honour Ali's later years as an activist, and his struggle with Parkinson's disease.
Between these are two other great pieces: High Sierra Sonata by Ben Shirley and James Lee III's Clarinet Quintet. More tone poem than narrative, Shirley's piece is an honest response to the dynamic beauty of the American southwest, in American vernacular style, if that means anything. Lee has a heavier task, addressing the treatment of the Indigenous peoples who were cheated out of promised territory in the Dakotas. Made me think of a half-finished monument to Crazy Horse that sits near Mount Rushmore. Both pieces substantially add to a growing genre: the clarinet quintet.