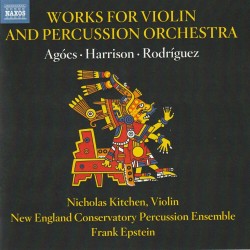 Works for Violin and Percussion Orchestra
Nicholas Kitchen; New England Conservatory Percussion Ensemble; Frank Epstein
Naxos 8.574212 (naxos.com/Search/KeywordSearchResults/?q=Agocs)
American composer Lou Harrison (1912-2003) enjoyed mixing non-Western musical exoticism with lots of percussion. In his Arabic-flavoured, 21-minute Concerto for Violin and Percussion Orchestra, he augmented conventional noisemakers with novel "instruments" including flowerpots, metallic coils and washtubs. Sinuous violin melismas and pulsating percussion decorate its first two movements, composed in 1940; Harrison added the roisterous belly-dance finale in 1959. It's energetically performed by Nicholas Kitchen, first violinist of the Borromeo String Quartet, New England Conservatory quartet-in-residence, and the NEC Percussion Ensemble conducted by Frank Epstein, its founding music director.
Insistent rhythms and pentatonic melodies, including an ancient Mayan dance-song, evoke tropical steaminess in the five-movement Xochiquetzal (2014) by Robert Xavier Rodríguez (b. San Antonio, Texas 1946). Kitchen's violin vividly represents Xochiquetzal, Aztec goddess of beauty, love and fertility, among hummingbirds, casting a love spell, alongside her rain-god husband, weeping tears of flowers and bestowing music and dance upon her worshippers.
The four-movement Concerto for Violin and Percussion Orchestra (2018) by NEC faculty member Kati Agócs (b. Windsor, Ontario 1975) begins with Incanta, gentle tinkles accompanying a long-lined, sentimental violin melody. In the animated Inquieto, staccato percussion punctuates rapid, repeated violin figurations. Maestoso presents another extended, soulful violin melody, slowly throbbing percussion, an intense violin cadenza leading to a dramatic tutti climax before returning to the opening lyricism. Brioso.Cantabile's piquant melodies and propulsive rhythms create a whirlwind, Gypsy-like dance, its exultant final flourish ending both the concerto and this very entertaining CD.