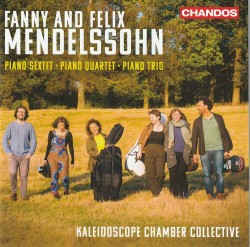 Fanny and Felix Mendelssohn
Kaleidoscope Chamber Collective
Chandos CHAN 20256 (chandos.net/products/catalogue/CHAN%2020256)
The sting of Richard Wagner's bitter anti-Semitic missive had a numbing effect on the true appreciation for Felix Mendelssohn's music. It was probably worse so for Fanny Mendelssohn who had to also deal with the patriarchy of European society, not dissimilar to the lack of recognition for Clara Schumann among other women of the period.
The repertoire performed by the Kaleidoscope Chamber Collective proffers a snapshot of filial Mendelssohn genius. Think then of this recording of chamber works as the most recent delectable musical presentation of Mendelssohnian hors'd'ouevres; the suggestion also being that (hopefully) there is much more to come.
Kaleidoscope give a touchingly emotional account of Fanny's String Quartet in A-flat Major H-U 55 whose harmonic richness and subdued melancholy reveal both a debt and contrast to her brother's exquisite way with form and structure. Her later Trio in D-Minor Op. 11 H-U 465 displays a remarkably wide range of touch and timbre especially magical in the whispered delicacy of its Lied movement.
Felix Mendelssohn's Sextet in D Major, Op. post. 110 MWV Q 16 came a whole year before his revolutionary String Octet in E-flat Major. Like its worthy successor, what clinches the greatness of this sextet is the buoyant jubilation and tight fugal construction, which gives it a power equalled by few other finales in chamber music. This is beautifully fresh and energetic music-making from a quite extraordinary ensemble.