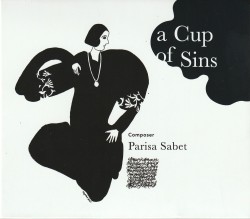 Parisa Sabet – A Cup of Sins
Various Artists
Redshift Records TK478 (redshiftrecords.org)
Iranian-Canadian composer Parisa Sabet's six compositions here draw on Iranian traditional music and Western music like minimalism, atonalism and romanticism, perfectly performed by Jacqueline Woodley (soprano), Christina Petrowska Quilico (piano), Laurel Swinden (flute), Peter Stoll (clarinet), Robert Grieve (electric guitar), Matthias McIntire (violin/viola), Dobrochna Zubek (cello), Robert Grieve (electric guitar) and Joshua Tamayo (conductor).
Highlights include the upbeat chamber piece Shurangiz, a well-orchestrated Western/Iranian influenced composition with rhythmic repetitive grooves, lush clarinet and flute lines, and colourful repeated piano notes, inspired by contemporary Iranian Tar player/composer Ali Ghamsari. Woodley and Petrowska Quilico perform the three-movement Dance in your Blood, a setting of an English translation of a Farsi poem by Rumi. It combines classical art song like the Movement I opening piano solo and gentle vocals, and wild free expression Movement II with modern vocal effects like the repeated word "love," and atonal piano chords. Violin solo Geyrani, inspired by Iranian kamancheh virtuoso/composer Kayhan Kalhor, has colourful held notes, alternating high/low pitched lines and high squeaky notes. McIntire's amazing performance sounds like more than one violinist playing!
Set to a text about sexual violence and trauma by poet Simin Behbahani, A Cup of Sin is for soprano, clarinet, viola, piano, electric guitar and cello. The opening contemplative prelude with long held drone and spoken text leads to the longer "not-so-easy listening" dramatic middle movement encompassing sudden surprising loud crashes, vocal squeals and spoken words, concluding with a calm postlude.
Sabet successfully incorporates her life experiences in these unique compositions.