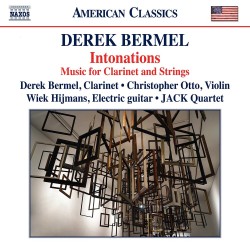 Derek Bermel – Intonations – Music for Clarinet and Strings
Derek Bermel; Christopher Otto; Wiek Hijmans; JACK Quartet
Naxos 8.559912 (naxos.com/CatalogueDetail/?id=8.559912)
What amazing art evolves from decaying empires! Consider this new release by Derek Bermel. Widely travelled, juxtaposing American styles like twangy folk and wrenching blues, adding elements from farther afield (South American, African, Thracian), Bermel fashions wonderful curiosities from this mittful of influences. Intonations, played with surly strut by the JACK Quartet, is all bending pitches and grinding gears, although the second movement, Hymn/Homily is poignant and sweet. Ritornello is a single-movement work for string quartet and electric guitar (played by Wiek Hijmans). After the ear-stretching dissonance of the prior tracks, this at first sounds pop, even a bit like Classical Gas. Briefly. Then it's Death and the Maiden meets R2D2, and into the multiverse we go.
Composer turns clarinetist on Thracian Sketches. A deep and mellow low register melody emerges, exploring the world of octave-plus-tritone, and eventually becoming tired of that limited space. As the melody careens upward, Bermel vocalizes while playing, adding a menacing buzz to the line. Sure enough, once the upper register is breached, all heck breaks loose. It's one of those pieces that will take all the player's endurance. Doubtless circular breathing is a featured asset, so seldom does the sound actually stop. It's a brilliant piece for solo clarinet, ending with a fantastic race down and back up the range of the horn, the explorer thrilled with the view.
Five brief Violin Études haunt the ear thanks to excellent renditions by Christopher Otto. To close the disc, Bermel and the JACKs perform A Short History of the Universe. Its second movement, Heart of Space, could be a parody of the theme from Love Story. Balkan dance and Lutheran chorale jockey for position in the good fun of Twistor Scattering, and then refer back to the atonal pointillism of Multiverse, the first movement.
Excellent liner notes enhance the many pleasures of Bermel's music.