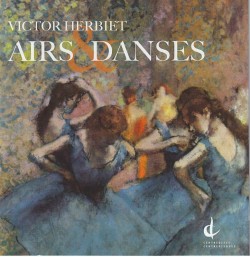 Victor Herbiet – Airs & Dances
Victor Herbiet; Jean-François Guay; Marc Djokic; Julian Armour; Jean Desmarais
Centrediscs CMCCD 29822 (cmccanada.org/website-search/?q=CMCCD29822)
Looking back to the era when the saxophone was elbowing its blustery way to the front of composers' to-do lists, Victor Herbiet offers a diet of 20th-century stylings for a variety of chamber settings all featuring his instrument. Airs & Dances is exactly what it says it is, and the writing is every bit as capable as the playing. It seems a good strategy for saxophonists to provide themselves with fresh repertoire, should they feel so inclined. Herbiet does, in a way that is both pleasant and certainly challenging to the player, and fun for the listener.
The opening track, Troika, purports to reference the more jazzy side of Shostakovich, but I hear a good deal of Milhaud or Poulenc as well. Wherever it hails from, it's a romp. Much of the disc is lighthearted and fun, veering into uncloaked Romanticism in track seven, Pas de Deux for soprano and alto dance-aphonists. Herbiet is ably abetted on several tracks by fellow saxist Jean-François Guay, and aided ably on others by the very fine pianist Jean Desmarais. The other collaborators are fellow Ottawans Marc Djokic on violin and cellist Julian Armour.
Herbiet touches down somewhere closer to the current century in Paris Rush, a sparkling duo again featuring Guay, again for soprano and alto saxes. Imagine the Beatles' tune from Sergeant Pepper's, A Day in the Life, but mimed out by two saxes in a French accent. Trois Valse-caprices are solo etudes in the style of an early 20th century composer/dentist, Dr. Gilles Amiot. Herbiet's solid technique is on full display, and perhaps he'll consider filling (get it?) a whole study book with these types of pieces.