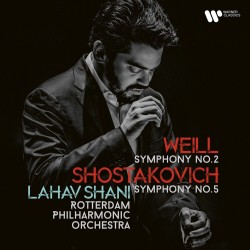 Weill – Symphony No.2; Shostakovich: Symphony No.5
Rotterdam Philharmonic Orchestra; Lahav Shani
Warner Classics (warnerclassics.com/artist/rotterdam-philharmonic-orchestra)
"Kurt Weill, symphonist" doesn't jibe with the reputation of the composer from post-WWI Germany. Known more for his theatre work and songs, Weill was discouraged in his early efforts at the large abstract form; unlike his contemporary, Dmitri Shostakovich, his "serious" works remain overlooked.
Weill's Second Symphony (1933) is presented in a clever pairing with the well-known Fifth Symphony (1937) by the Russian titan, comparing the work of the older man who was forced from his home by the rising Nazi peril to the younger one who stayed put in Stalinist Russia. It's a shame Weill's symphony is sidelined by most orchestras. His was a mature, original voice; early criticism missed the mark, calling him a melodist whose ideas were fit only for the cabaret. Weill wrote tonal but edgy, hyperbolically dramatic music, and this is an excellent rendering.
Shostakovich wrote his Fifth to keep the wolves at bay, ticking the boxes that Stalinists insisted were proper to good Soviet Art: strife overcome by struggle, a triumphant finale, and no experimental formalisms. Somehow the effort produced a masterpiece of veiled irony.
The Rotterdam Philharmonic under Lahav Shani makes a capable team. The recording favours bombast in the fortissimo passages, so the answering dolce colours are sweet relief. The piano entry and fugue in the Fifth's first movement sends chills. The edges are sharp, and the tempi barely hold the road around the curves. I've heard faster, but not more hair-raising. The fierce delicacy of the scherzo is a total delight, if you appreciate comic terror. The largo will make anyone with a soul weep, an over-the-top, haunting lament. The finale, or "a triumph of idiots" per Rostropovich, was disguised parody.
Shani and company emphasize the darkness and perhaps even the despair Shostakovich must have felt, and the fear he sustained of being "disappeared" for improper artistic ideas. Weill was perhaps the luckier of the two, having escaped Nazi Germany to publish his "degenerate" music without fear of being detained for it, let alone for being Jewish.