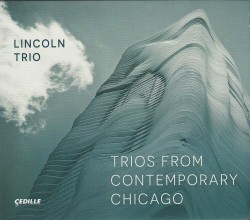 Trios from Contemporary Chicago
Lincoln Trio
Cedille CDR 90000 211 (cedillerecords.org)
My November 2021 WholeNote review of a CD containing trios by two Chicago composers praised "the vivid colours, dramatic expressivity and sensational virtuosity" of the Lincoln Trio, here returning with compositions by five living Chicagoans.
Sensual passion fills Shulamit Ran's eight-minute Soliloquy, derived from an aria in her opera Between Two Worlds, in which the tenor (here, the violin), yearns for his beloved. Less satisfying is Augusta Read Thomas' …a circle around the sun…, five minutes of enigmatic fragmentation.
Three works written for the ensemble receive their first recordings. Shawn E. Okpebholo's 11-minute city beautiful celebrates three Chicago architectural icons. Dribbling, undulating melodies evoke the 82-storey Aqua Tower's wave-like exterior. Long-lined, pastoral lyricism reflects the horizontal planes of Frank Lloyd Wright's Robie House. Okpebholo calls Union Station "an amalgam of neoclassicism and modernism;" his similarly styled music expresses, he says, the terminal's "century-old hustle and bustle."
Mischa Zupko's three-minute Fanfare 80, honouring the Music Institute of Chicago's 80th year, exists in versions for orchestra, woodwind quintet and the Lincoln Trio. Rambunctious seven-and-11-beat measures create, writes Zupko, "a savage celebration." One wonders why.
The best comes last. Sanctuary is Stacy Garrop's two-movement, 23-minute, emotion-wrenching memorial to her father. In Without, brooding anguish, urgent desperation and a "pseudo-Jewish folksong" describe, she writes, a girl "searching for her lost parent." Within's hymn-like solemnity and gentle piano wind-chiming represent the girl (violin) finally reuniting with her father (cello) "within the sanctuary of her own heart."