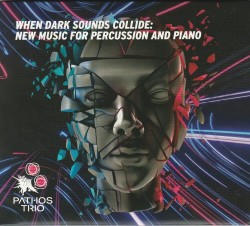 When Dark Sounds Collide: New Music for Percussion and Piano
Pathos Trio
Panoramic Recordings PAN24 (newfocusrecordings.com)
These specially commissioned works are so unusual and remarkable that they demand an equal share in the limelight of this debut album, When Dark Sounds Collide by the Pathos Trio. The stunning music expertly interlaces a wide world of time and space, and musical traditions, into extraordinary repertoire for percussion and piano.
In each work, the Pathos Trio have closely collaborated with the composers – Alyssa Weinberg, Alison Yun-Fei Jiang, Finola Merivale, Evan Chapman and Alan Hankers, who is, of course, also the pianist of the trio.
This has resulted in some truly inspired performances by the members of the trio, who demonstrate – in soli as well as in ensemble – each composer's heightened skill at conjuring a spectrum of sonic worlds. The collision of metallic, wooden and electronic percussion instruments – performed by Felix Reyas and Marcelina Suchocka – alternate, blend and often enter into outright battle with the plucked, strummed strings stretched taut across the brass frame of the concert grand piano, which is also softly hammered and variously pedalled by Hankers.
The music veers from delicate washes of sound in Jiang's Prayer Variations and Hankers' Distance Between Places to somewhat cataclysmic eruptions such as those that inform the mysterious strains of Merivale's oblivious/oblivion, often punctuated by prescient and even foreboding silences. Meanwhile, the musicians also revel in the passagework – both delicate and fierce – of Chapman's fiction of light and Weinberg's Delirious Phenomena.