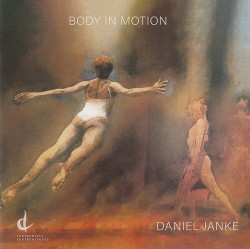 Daniel Janke – Body in Motion
Various Artists
Centrediscs CMCCD 29522 (cmccanada.org/shop/cd-cmccd-29522)
Canadian composer/musician/filmmaker/media artist Daniel Janke is a respected musical creator in various artistic environs/genres. Edmonton-born, he grew up in Ontario and is now based in Whitehorse, Yukon spending time in Montreal and Berlin. Some compositions from his dancers/choreographer collaborations are featured here.
Janke perfectly balances rhythms and musical sounds in his storytelling dance works. Opening Martha Black's Reel (1996), commissioned by Dancers With Latitude, is a fast Celtic-influenced work featuring violinist Adele Armin's exciting legato "fiddle" lines, jumping intervals, string plucks and slight atonalities above Janke's grounding, at times low drone, prepared piano. The four-movement String Quartet No. 2 "River" (2011) is ambiently performed by violinists Mark Fewer and Aaron Schwebel, violist Rory McLeod and cellist Amahl Arulanandam. Part 1 low- and high-pitched held notes create a meditative sound. Part 2 has tension building slightly melancholic atonal sounds and plucks. Part 3 features fast legato turning lines reminiscent of a river current. Part 4, which accompanies the short film River, is slow, dark and moody yet comforting with simultaneous low and high strings, and subtle grooves. In the Badu Dance commission Yaa Asantewaa -- Part 1 (1995), Adele and cellist brother Richard Armin play dancer friendly close, at times fragmented, conversational lines against Alan Hetherington's ringing percussion, in another memorable recording by the late violinist, who died in June 2022 after a long battle with cancer. Virtuosic The Bells (1987) has Janke playing solo piano wide-pitched melodies/effects to closing ringing bell-like pitches.
It's wonderful listening to dance music from Janke's decades-long illustrious output.