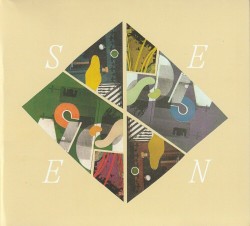 Seen
Joseph Petric
Redshift Records TK519 (redshiftrecords.org)
Internationally renowned Canadian accordionist Joseph Petric is a respected solo/chamber performer. In his first full-length release since 2010, Petric performs his five commissions spanning his decades-long career, and one other work. It is illuminating to hear him here play solo accordion, and also accordion paired with electroacoustic sounds.
Petric shares compositional credit with composer David Jaeger in the opening track Spirit Cloud (2021) for accordion and electronics, a reworking of an earlier Jaeger solo cello work. An energetic wide-pitched full-reed, solo accordion beginning with fast trills and lines leads to the addition of electroacoustic soundscape effects like echoing, held tones and washes, in an equal-partner duet.
Composer Norbert Palej writes with precise instrumental understanding and purpose in the spiritually themed three-movement title work SEEN (2019). Petric's amazing bellows control shines in legato single-note melodies, and challenging high/low pitched contrasts. Robert May's Fadensonnen (1994) is another exploration of varying accordion colour and meditative dynamics. Peter Hatch's Pneuma (1986) is an interesting blend of accordion and electronics, from faint electronic high tones, rock-groove-like accents and held tones matching the acoustic accordion sound. There's more traditional electronic washes, rumbles and echoing with driving accordion repeated detached chords in Erik Ross' Leviathan (2008).
The closer, Torbjörn Lundquist's Metamorphoses (1964), is the only work not commissioned by Petric. A classic virtuosic solo accordion piece from the past, Petric plays many fast runs, accented chords, accelerando and short, almost-film-music sections with colourful ease.
All in all, great accordion sounds!