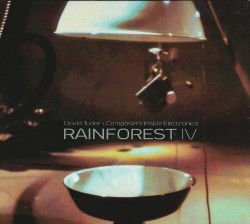 David Tudor – Rainforest IV
Composers Inside Electronics
Neuma 158 (neumarecords.org)
American avant-garde pianist turned electronic composer, David Tudor's masterwork Rainforest had a long gestation. Beginning in 1968 Tudor created four distinct versions culminating in 1974 when he gathered a group of eager young composers, musicians, circuit benders and maverick solderers to form a "family" of collaborators. They called themselves Composers Inside Electronics (CIE).
Tudor's initial concept was deceptively simple: a collection of mostly everyday objects are suspended in space and set into audible vibration by small electromagnetic transducers. Each object responds to input audio signals in idiosyncratically non-linear, unpredictable, changing ways. Serving as acoustic filters, the objects modify the sounds electronically fed into them.
As a visitor to Rainforest IV's Canadian premiere at York University in February 1975, I recall walking into the installation. The exhibition space was populated by transformed sculptural loudspeakers, the acoustic environment eerily evoking Tudor's descriptive title.
The CIE performance of Rainforest IV on this album was taped in 1977 at the Center for Music Experiment in San Diego. We're greeted by a dense aural ecosystem of twittering, squawking and chattering sounds reminiscent perhaps of nighttime insects, amphibians, bird calls and choruses. Clanging, clicking, whistling, sustained underwater and alien sounds slowly crossfade during the record's almost 69 minutes.
The scene was vividly captured by two musicians, who traversed slowly through the space, wearing binaural microphones on their heads. While not a definitive documentation of the work, listened to with headphones this evocative binaural recording is as close as you can get without being in the space. There's something magical in Tudor's synthetic forest of sight and sound.