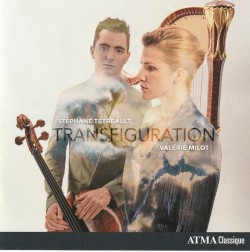 Transfiguration
Stéphane Tétrault; Valérie Milot
ATMA ACD2 2865 (atmaclassique.com/en)
A "classical" CD opening with jazz and ending with rock? Credit Quebeckers Stéphane Tétreault (cello) and Valérie Milot (harp) for assembling these wildly disparate "transfigurations" by five Canadian composers.
La Folía, a Renaissance-era Portuguese dance tune, has inspired variations by hundreds of composers from Vivaldi to Rachmaninoff (including my fellow WholeNote reviewer Daniel Foley!). In Alexandre Grogg's buoyant Three Variations on La Folia, drummer Bernard Riche joins Tétreault and Milot for this semi-improvised, bossa-nova-flavoured jazz arrangement. Tétreault's cello floats melancholically amid Milot's rippling in Grogg's Swan to Swan, quoting "swan music" by Gibbons, Sibelius and Barber, leading to the iconic The Swan by Saint-Saëns.
Kelly-Marie Murphy's Si veriash a la rana (a Ladino nursery rhyme), arranged from her Concerto for cello and harp, moves from solemn Hebraic prayer to wailing flamenco frenzy. Puccini's Madama Butterfly infuses Transfigured Sentiment in Marjan Mozetich's audience-pleasing style of repeated phrases expressing endless yearning.
Caroline Lizotte's Close for Couloir, Op.48, commissioned by Couloir, the cello-harp duo from B.C. now based in Europe, evokes a Scottish stone circle, bloody battlefield, Edinburgh Castle, Melrose Abbey and a song by Robert Burns. The music is mysterious, martial, meditative, sentimental – and entrancing!
François Vallières' busy, fragmented Double-Monologue depicts two individuals incessantly speaking without hearing each other, self-absorption that's symptomatic, says Vallières, "of contemporary society's addiction to social media." Riche rejoins the duo in Vallières' arrangement of rock-group Gentle Giant's Cogs in Cogs, ending this fascinating CD in raucous fashion.