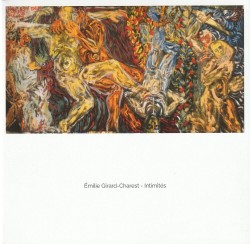 Émile Girard-Charest – Intimités
Émile Girard-Charest; various artists
Ambiances Magnétique AM 263 CD (actuellecd.com)
Émilie Girard-Charest is a multi-talented Montreal cellist, improviser and composer. Here, four compositions written between 2014 and 2018 for varying strings, piano and percussion ensembles touch upon her self-described clear personal inspirations in unique, though at times challenging, music all her own.
Girard-Charest plays cello on the first three compositions too. Along with violinists Lyne Allard, Geneviève Liboiron and violist Jean René, Asyndètes (2017) is her exploration of the effects of "fracture energy and shocks" as intense outpouring of ragged sounds from fast strings to accents, multi-rhythms and wide pitch settings are spaced out by silences to quieter calm held notes. Épanchements (2014), for violin (Liboiron), cello and piano (Daniel Añez), is based on silences which separate a fascinating use of noisy modern strings sounds and single-note piano, making for focused listening. Heurts (2019) explores the notion of rupture point. Violin, cello, piano and percussion (Noam Bierstone) are dramatic in faster rhythmical driving music with clever midstream percussion hits and slight short instrumental heartbeat-like effects.
The title track Intimités, for chamber ensemble comprised of four cellos and four double basses, is more atonal with almost painful dissonances as the composer explores aspects of intimacy. Powerful original musical ideas are gradually developed, effectively utilizing held notes throughout – like each ensemble member holding an extended personal note with pitch/tremolo subtlety – and closer to the end, very low-pitch, thunder-like grumbles.
Contemporary music aficionados, and all other listeners too, are encouraged to experience this great Girard-Charest release.