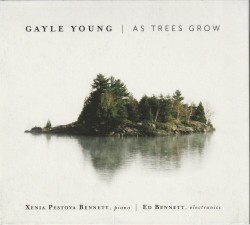 Gayle Young – As Trees Grow
Xenia Pestova Bennett; Ed Bennett
farpoint recordings fp084 (xeniapestovabennett.com)
Composer Gayle Young has in the course of her career been a musician, builder of microtonal musical instruments and sound sculptor. She's also made a significant contribution as an author and music journalist. For several decades she served as editor and publisher of Canada's leading magazine "for curious ears" Musicworks and in 1989 her definitive biography of Canadian inventor Hugh Le Caine, The Sackbut Blues: Hugh Le Caine, Pioneer in Electronic Music, was published by the National Museum Of Science And Technology.
Young's fifth album, As Trees Grow, showcases three piano-centred compositions. The three-part Ice Creek, six-part Forest Ephemerals: Four Flowers and the 20-minute title work all reflect seasonal aspects of her Niagara-region home as well as her dedication to Deep Listening. Underscoring direct links to nature, field recordings of natural sounds infuse several sections of the works, privileging the voice of nature alongside that of the grand piano.
Pianist Xenia Pestova Bennett, a specialist in contemporary concert music, renders the scores with sensitivity of imagination, listening and touch. She collaborated extensively with the composer in preparation for As Trees Grow, exploring the piano's eight octave range. Another collaborator, Ed Bennett, subtly enhances the instrument's resonance with live-electronic treatments in sections.
In Ice Creek the recorded sounds of flowing water played through a series of tuned resonators are mixed with the piano's sonics. This process not only selectively sustains the keyboard's acoustic resonance, but also draws the listener's awareness to the natural soundscape and to our often problematic engagement with it.
Evoking Ontario spring wildflowers, Young's Forest Ephemerals: Four Flowers builds on the chromatic harmonic language of the previous century, her aphoristic and rhythmically organic phrases blending with it to express a very singular musical voice, one which reaches for hope.