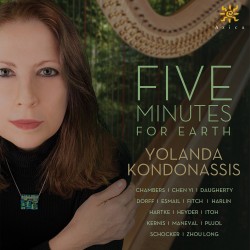 FIVE MINUTES for Earth
Yolanda Kondonassis
Azica (yolandaharp.com/earth-at-heart)
With its tremendous range, dynamic possibility and immediately identifiable sonic thumbprint, the solo harp has the potential to be among the most expressive and emotive instruments in music. This is most certainly the case when this ancient instrument finds itself in the capable and eminently musical hands of multiple-Grammy Award-nominee Yolanda Kondonassis. Recording here for the Azica Records label, FIVE MINUTES for Earth is an ambitious project that combines Kondonassis' considerable and obvious musical talent with her love for planet Earth.
Like so many, Kondonassis acknowledges that the pandemic and lockdown provided space and time to think deeply about what one finds most meaningful in life. And it was in this thoughtful place that inspiration for this project first hit. "It seemed like a perfect way to combine a number of missions – most importantly, the opportunity to draw attention to Earth conservation and climate change through the language of music." Tapping 16 celebrated composers representing a wide range of ages, backgrounds and intersectionality yet united in their connection to environmentalism, this fine new recording was captured in the resonant and acoustically beautiful Sauder Concert Hall. FIVE MINUTES should go a long way to further solidify Kondonassis' reputation of being among the world's preeminent solo harpists, while giving listeners opportunity to experience a musical "metaphor for the urgent and compressed timeframe that remains for our global community to embrace and implement solutions to our fast-growing environmental crisis."