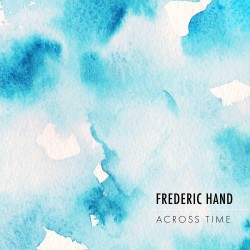 Across Time – Guitar solos & songs by Frederic Hand
Frederic Hand; Lesley Hand
ReEntrant REN02 (newfocusrecordings.com)
After dazzling us with his earlier release Baroque and on the Street (Sony), and his work with his fusion band Jazzantiqua, Frederic Hand returns with Across Time and a series of original works that have been written in various styles, sweeping across continents, from Elizabethan England to 20th-century Argentina and Brazil, to utterly contemporary music.
This repertoire is remarkable for its range as well as for the refinement of form and performance. Hand reveals that he has, over time, developed a deep relationship with his instrument, the guitar, and he morphs into a myriad of styles while exploring various eras in the musical continuum.
Across Time shows that Hand now has a voice all his own. He has developed an intimate relationship with melodic line. He also has the ability to create remarkable harmonic tensions with relatively spare ornamentation. And his rhythmic impulses have their own allure, the retardandos and accelerandos sounding entirely natural.
All of this is reflected in all of the album's music – especially The Poet's Eye, with stunning vocals by (his wife) Lesley Hand, and on the apogee of the album, which is Trilogy. Drawing on plenty of variety in both dynamics and articulation, Hand foregrounds the tensions of his works with vivid contrasts and also with subtle and sensitive handling of the instrument that he has come to make an extension of his very body – living and breathing the music that comes from within.