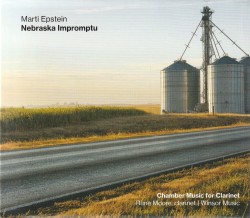 Marti Epstein – Nebraska Impromptu, Chamber Music for Clarinet
Rane Moore; Winsor Music
New Focus Recordings FCR324 (newfocusrecordings.com)
Music that follows in the tradition of Morton Feldman is perhaps best suited to live performance, an experience to share among an audience; but alone by the stereo, in a room with the windows open for spring air is good too. The release this month of the music of Marti Epstein features fine performances by all participants, notably clarinetist Rane Moore, whose rich and brilliant sound is heard on each track.
The works display the influence of Feldman and also Toru Takemitsu. They should be enjoyed in a spirit of contemplation and peace. These are calm explorations, invitations to dream, and journeys without goals. Three of the five pieces reference or respond to visual inspiration. Oil and Sugar, for clarinet, flute, violin and piano (2018), references a conceptual video of motor oil being poured over a mass of sugar cubes. Komorebi for clarinet, oboe and violin (2018), is the Japanese word for sunlight filtered through leaves. Nebraska Impromptu, for clarinet and piano (2013), was inspired by the landscape of Epstein's childhood. A visual artist herself, she stretches her musical colours across great expanses of "canvas."
The debt to Takemitsu is especially apparent in Komorebi, but Epstein is an original artist within this aesthetic realm, and for those who enjoy contemplative naturalist art, the performances are delightfully in tune and in synch. She allows remarkably long silences to divide and set off the swatches of sound, like negative space in a painting, allowing the listener to savour the previous moment before hearing the next.