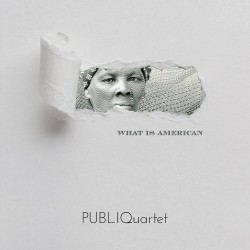 What is American
PUBLIQuartet
Bright Shiny Things (brightshiny.ninja)
What is American is the most recent album by the PUBLIQuartet and purposefully titles the work as either a question or a statement, a summons to rediscover the roots of classical European music that bind to American Indigenous and Black music. But the string quartet doesn't stop there; though as a group they are found under "contemporary classical" they are known for their boundary-crossing genres, and the compositions are demanding of each performer's skills in jazz, blues, improvisation, chopping, folk and swing.
Beginning with the inspired re-working of Dvořák's "American" Quartet, an arrangement retracing the African Indigenous and Black roots of the music giving it a somewhat ironic tone, to Vijay Iyer's Dig the Say, a rich and rhythmically textured work in four movements dedicated to the music of James Brown and highlighting the group's finely honed ensemble work. Each interpretation is outstanding. PUBLIQuartet has a knack for keeping to the score while playing freely and with joy.
What is American includes the world premiere recording of Roscoe Mitchell's 2020 composition Cards, as well as a collection of four original compositions by the quartet from their MIND THE GAP series, further exploring improvisations on compositions by Ornette Coleman, Alice Coltrane, Ida Cox, Betty Davis, Tina Turner and Fats Waller. Rhiannon Giddens' At the Purchaser's Option, an emotional exploration of an 1830s newspaper advertisement selling a young Black woman, including her nine-month-old child "at the purchaser's option" is powerfully arranged by the quartet and is both heartbreaking and dynamic. Take a moment to look up the actual ad to bring that piece home. It is followed by Pavement Pounding Rose exploring Waller's Honeysuckle Rose as a tribute to Madam C.J. Walker and beautifully narrated by Walker's great-great-granddaughter A'Lelia Bundles.
The track list for this album numbers 20, and a paragraph could be dedicated to each. The Fifth Verse, based on Oliver Wendell Holmes' denouncing slavery in his writing of the unofficial fifth verse of the Star-Spangled Banner some 50 years after Key's original, is then shadowed later in interrupted fragments that took my breath away, keeping the messaging on track like connective tissue to arms and legs. This album is dedicated to reminding us of our current culture, where we came from, and simultaneously hoping and fearing where we could be going.