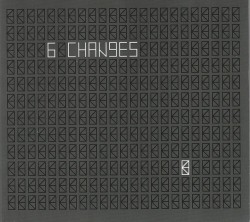 Ben Duinker; Architek Percussion – 6 Changes
Architek Percussion
Independent (architekpercussion.com)
The Montreal-based quartet Architek Percussion, founded in 2012 by McGill University music graduates, has established itself along the lines set in the last century by other classical music-based percussion groups such as NEXUS. They are equally comfortable in the 20th-century percussion ensemble repertoire now considered "classic," as well as in new works generated via commissions and collaborations. Consisting of Noam Bierstone, Ben Duinker, Alexander Haupt and Alessandro Valiante, Architek Percussion has toured Canada multiple times and commissioned works by composers from some 11 countries.
Six Changes, an extended collaboration between Duinker and his bandmates, takes the group in a novel direction. In six parts, the album charts a stylistic path referencing electronica, percolating pulse-based minimalism and the experimental fringes of rock, all snapped to attention by a closely miked drum kit. Stock keyboard percussion instruments also make an appearance, as do airy synth chord pads, which drift in and out, occasionally interrupted by growling bass synth melodic lines.
Yet another element here is the transformation of rhythms the inventive Duinker has encountered in daily life. For example, his transcribed rhythms from an MRI machine feature in On Sitting the Next Few Plays Out, layered into a multi-pulse mesh. And he first heard the ostinato in Dark Horse Fan in a malfunctioning ceiling fan.
It took much of the album to get fully into Six Changes, but in the end the superimposition of clever rhythms, vernacular harmonic modulations, kicked in the pants by an assertive groove, won me over.